Center Weston Richburg just completed his third season in the NFL; all three spent with the New York Giants. Richburg joined the Giants as a second-round draft choice in 2014 from Colorado State (where he started a school-record 50 games). Giants.com's Michael Eisen sat down with Richburg for some insight into the center's journey to the NFL and Big Blue.
Q: Where did you grow up?
Richburg: "I grew up in a small town outside of Amarillo, Texas called Bushland. It's not even really a town. It's just a development outside of the bigger town. Amarillo has like 200,000 people, I think. Bushland is pretty small. I graduated from high school with 82 people, so it's very small."
Q: Is Bushland pretty much in the middle of nowhere?
Richburg: "Yes, but Amarillo isn't too far away. Probably about 10 minutes away. It's pretty country out there."
Q: How far is Bushland from Dallas?
Richburg: "Dallas is probably about five hours away."
Q: What did your parents, Ruth and Danny, do when you were growing up?
Richburg: "When I was growing up my dad worked for Bayer Animal Health. He sold pharmaceuticals to vets. My mom, when we were younger she would stay at home. Then, we opened a gas station in Bushland. My dad and my mom took that over."
Q: Did you have siblings?
Richburg: "I have a younger brother and a younger sister. Brother's name is Garrad and Whitney is my sister."
Q: Did you play a lot sports when you were a kid?
Richburg: "I did play a lot of sports. I was doing basketball, football, track, baseball. Played a lot of baseball."
Q: Did you have a favorite?
Richburg: "Football was always my favorite. I gave up soccer early. I never really enjoyed that. I liked baseball. Basketball was okay. Track was actually big in high school for me. I loved track."
Q: How old were you when you played youth football?
Richburg: "Flag football was like first through third grade. Tackle football started in fourth grade."
Q: Were you always a lineman?
Richburg: "In flag football I was a running back. When I started playing tackle I went to running back and quarterback. I played quarterback from the fifth grade to ninth grade."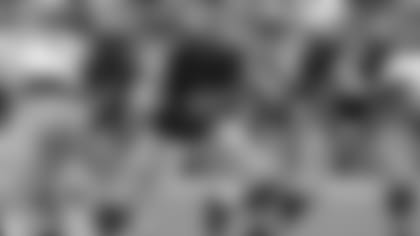 Richburg played four seasons at Colorado State University
Q: Were you a good quarterback?
Richburg: "No, I was terrible. Really bad."
Q: Did you run the ball or throw the ball?
Richburg: "I probably should've ran the ball a lot. I tried to throw and it didn't go to well. It was fun, though."
Q: Were you a good student in school?
Richburg: "I think I was a good student. I don't know if I ever reached my potential. I enjoyed socializing and having friends and stuff. I wouldn't say I'm not a smart guy."
Q: At Bushland High School, were you a two-way lineman?
Richburg: "I played mostly offense. I played a couple plays on defense, but I wasn't really a D-lineman."
Q: Didn't your team finished 10-0 one year?
Richburg: "Yes. I guess it was 10-1. We lost in the first round of the playoffs to the state champs. That was my senior year."
Q: What kind of memories do you have of that season?
Richburg: "It was great. That was my first season playing offensive line. I played quarterback my freshman year and had a knee injury sophomore year. I was out sophomore and junior year. I came back my senior year and played left tackle. That was cool because I was playing a new position. I was bigger. I got to learn a little bit. We ran a spread offense and we were throwing the ball. I think we mixed in some good runs, but I learned a lot."
Q: Was your knee injury so severe that you had to miss the following season?
Richburg: 'I tore my ACL sophomore year. It was my right knee. My growth plates were still open. They didn't want to do surgery too early. I went a whole year without doing surgery. I threw shot put with a torn ACL. I threw shot put and discus, but couldn't play football."
Q: What title did Bushland win in 2009?
Richburg: "We won our division, 2A."
Q: You excelled at throwing the shot put. What's the secret to success in that endeavor?
Richburg: "I think it's technique. You have to get pissed off and just chunk it. I would have my headphones on and get really mad. Then I would go up and throw it as hard as I could. That might be my favorite sport, the shot put."
Q: I guess there's no professional shot put league.
Richburg: "Well, the Olympics but I wasn't that good. Some guys were much better than I was."
Q: Did you play well enough as a senior to start attacking the interest of colleges?
Richburg: "I didn't get recruited until after my season was over in like December. I didn't get a lot of attention. I got attention from Colorado State and a DII school close to Amarillo. Also TCU a little bit, but not much."
Q: How did Colorado State find you?
Richburg: "They were in contact with my head coach. He helped me out and gave me a chance. He sent my tape out to them. The rest is history."
Q: Did your high school coach know the coaches there?
Richburg: "They (the CSU coaches) were recruiting another guy who had a lot of people in there. He thought he'd give me a shot."
Q: Did you also play basketball in high school?
Richburg: 'My freshman year. That's forgettable."
Q: So it was CSU and TCU? Why did you pick CSU?
Richburg: "Colorado State has a really good animal science program. I wanted to major in animal science, because I grew up on a farm. That's how I decided to go to CSU."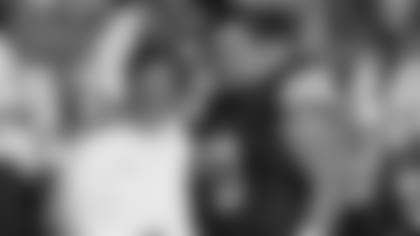 Richburg with Jim McElwain, the former head coach for the CSU Rams
Q: You grew up on a farm?
Richburg: "Yes. Our road was made of caliche, which is like gravel. We had a lot of land. I think we had 13 acres and a pasture by our house. We had horses and still have cattle. My dad and I have a cattle company. We showed pigs and cows throughout my childhood."
Q: How long does it take to get from Bushland to Fort Collins?
Richburg: "It takes about seven or eight hours."
Q: Did you like Colorado State right away?
Richburg: "Yes, it was great. It was a great town, great education and great people. It was a good time for me."
Q: Did you play immediately as a freshman?
Richburg: "I redshirted my freshman year. I played redshirt freshman year through senior year."
Q: Go through your positions in college.
Richburg: "I started my first three games at guard. Then they moved me to center. I played center most of the rest of the career. My sophomore year I actually broke a bone in my snapping hand. They moved me to tackle for a couple of games. I came back my last game of my sophomore year and snapped left-handed. I played with a big cast. That was the only year I moved around. My junior and senior years I played center."
Q: When did you start to think that you could play in the NFL?
Richburg: "I think it was my sophomore year. I got an idea that I may have a chance to go play. Going into college, I was just trying to play college football. I didn't have any idea. The more I played in college, the more I thought I could."
Q: You started 50 games. As you look back I would imagine you take tremendous pride in your college career?
Richburg: "Definitely. I think I started the most games in CSU history. That's pretty cool to think about. Some of the guys that go through there are very talented. Joey Porter. I think we have eight guys in the league right now. To say that I started the most games is pretty cool."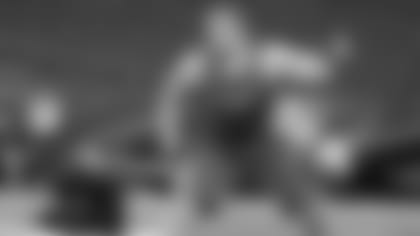 Richburg competes at the 2014 NFL Scouting Combine
Q: Did you have a good time in your five years in Fort Collins?
Richburg: "It was great. I met a lot of lifelong friends there. I met my wife (Marlee). Got a good education and met great people in the animal science department. It was great."
Q: You might be the only NFL player to major in animal science. Was it challenging?
Richburg: "It was very challenging. There was actually an anatomy and physiology class taught by a Korean professor. It was hard to understand him and it was hard stuff to pick up. I think I failed it the first time and had to take it again. It was challenging, but it was a lot of cool hands on stuff. We got to look at Carcasses and things like that. It was really cool."
Q: Growing up on a farm have you always been an animal lover?
Richburg: "Yes. Like I said, we showed pigs at livestock shows and showed cattle as well. My dad and I still own cattle right now. It's something I want to continue to do."
Q: Did you have standard pets like dogs as well?
Richburg: "We had dogs and barn cats, stuff like that."
Q: You were invited to play in the senior bowl. How important was that opportunity to showcase yourself?
Richburg: "It was really big, because it was a chance for me to go play against the top dogs, the guys from the SEC and bigger conferences. I wanted to go and prove that I could play with the top guys. It was big for me, really big."
Q: Did you have any idea prior to the draft where you would go?
Richburg: "I thought I was going to be like second or third round. I had no idea what team it would be."
Q: When it was the Giants, what was your reaction?
Richburg: "I was ecstatic. The history here is so great. To be a part of this organization is a blessing."
Q: You played every game and started 15 as a rookie. As you look back now, how tough was the transition to the NFL?
Richburg: "It was hard, it was hard. Playing guard against the top competition in the world. I learned a lot. It was a great learning experience for me. It showed me what it was all about. Definitely made me who I am today."
Q: The offensive linemen are a close-knit group. Do you do things together off the field?
Richburg: "We do. They're great guys. We spend a lot of time together. Not only here but we do stuff together outside of here. We eat together and have taken a couple of hunting trips together, which has been great. Just good guys. We're all really like-minded and get along really well together."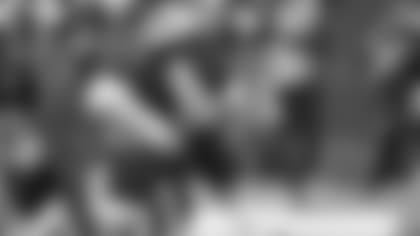 Richburg has been the starting center for the Giants since the 2015 season
Q: When did you marry Marlee?
Richburg: "We got married after my rookie year in March. March 15."
Q: How do you like living in a more densely populated part of the country?
Richburg: "It's very different. It's cool. My wife and I are doing something that not a lot of people get to do. We're enjoying a place that not a lot of people get to enjoy from where we're from. It's a cool experience right now. We're really soaking it all in."
Richburg: "She's actually working on a master's degree in counseling right now through Colorado Christian online. She wants to be a sports phycologist when she gets her master's. She's working hard on her school right now."
Q: Were you working on a masters?
Richburg: "I did my last semester of college. It was a coaching, adult education kind of thing."
Q: Do your parents still have the gas station?
Richburg: "It's still there but they sold it. Maybe my freshman year of college they sold it."
Q: Do they get to come to the Giants games?
Richburg: "Yes. My dad actually went to the game in Green Bay. He's been driving around the east coast. When we played Baltimore (on Oct. 16), I actually played my high school and college teammate Crockett Gillmore, tight end. His family came up and my high school coach came up to watch us play for the first time."
Q: Are your folks retired now?
Richburg: "My dad is a financial advisor for Edward Jones. My mom teaches school down in Corpus Christie."
Q: I imagine the traffic in Bergen County is a little more congested than it is in Bushland.
Richburg: "I definitely wasn't patient at first. You can't really do anything about it. You just turn the music up, sit back and let things unfold. It's definitely different than where I'm from. I don't think we have a stop light in Bushland. It's definitely much different traffic-wise here."