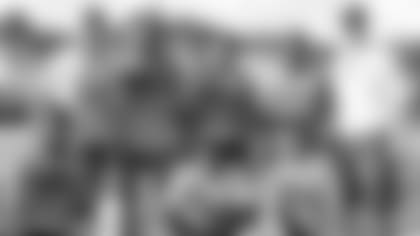 MANNING PASSING ACADEMY THRIVING IN 22ND SEASON
BY MATT COHEN
They're called the First Family of Football for a reason.
Eli, Peyton and Archie Manning have a combined 47 seasons of NFL quarterback experience. Eli is a two-time Super Bowl MVP. Peyton is also a two-time Super Bowl champion, not to mention a five-team league MVP. Archie is a member of the College Football Hall of Fame and the New Orleans Saints Ring of Honor.
For all their accomplishments (and there are many), the Manning's lasting football legacy could arguably end up being the Manning Passing Academy. Now in its 22nd consecutive year, the prestigious camp invites more than 1,200 young football players to learn from the Mannings and some of the country's elite college football players, who serve annually as campers. This year's camp ran from June 22-25, and was held for the 13th straight year at Nicholls State University, about 60 miles southwest of New Orleans.
"We wanted to help out high school kids around South Louisiana to become better quarterbacks, better football players and to enjoy their high school football careers more," Eli said. "I think we've done that and beyond."
The list of MPA alumni is impressive and includes a who's who of current NFL starting quarterbacks – Jameis Winston, Marcus Mariota, Andrew Luck, Russell Wilson, Andy Dalton and Philip Rivers – just to name a few. Eight overall No. 1 draft picks, including six of the last eleven, have participated as campers or counselors.
This year, more than 40 potential NFL prospects joined the fraternity as MPA counselors. It's an impressive list, led by reigning Heisman Trophy winner Lamar Jackson (Louisville) and Sam Darnold (USC), who many believe could be the first pick in the 2018 NFL Draft.
"It's fun for me to watch college football," Eli said. "Every Saturday you turn on the TV and you're going to see a guy that's been to this camp. So you're rooting for a lot of teams now and a lot of players."
The four-day, five-practice camp includes two-hour, two-a-day practice sessions and nightly Q&A forums with the dozens of college quarterbacks/counselors. There's also plenty of time to work with the Mannings (Eli, Peyton, Cooper and Archie) on X's and O's and fundamentals.
The Manning Passing Academy started back in 1996, when Peyton was still a junior at the University of Tennessee. Fewer than 200 kids showed up that year on the campus of Tulane University. But by Year 2 and Year 3, the camp doubled in size and has only continued to grow.
"We appreciate them coming here and being a part of this," said Eli, who along with his brothers and dad still live in a dorm room during the camp. "We appreciate that they enjoy football enough that they want to get better. I think that's where it starts. You want to become a better quarterback; you want to earn that starting job on the varsity."