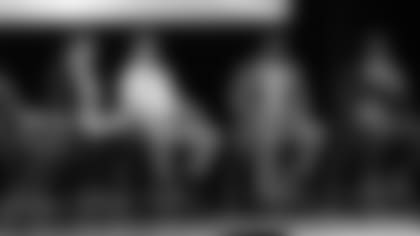 MANNING, TUCK AND BURRESS REUNITE AT GIANTS TOWN HALL
BY MATT COHEN
Eli Manning is a prankster, Dalvin Tomlinson wants to sack Dak Prescott, and Plaxico Burress still can't believe he faced single coverage when he caught the game-winning touchdown in Super Bowl XLII.
Those were just some of the many highlights at Tuesday night's Giants Town Hall, presented by NewYork-Presbyterian. Over 1,200 season-ticket holders gathered at the historic Town Hall performance center in midtown Manhattan for an exclusive opportunity to hear from and interact with their favorite Giants. For a third straight year, the hosting duties once again belonged to Bob Papa, the voice of the Giants, and former offensive lineman David Diehl, a two-time Super Bowl champion.
Team president John Mara kicked off the night by tackling a wide range of topics, including his outlook on the upcoming season and some of his favorite football memories. He got the crowd laughing several times, especially at this anecdote he shared about his father, Wellington.
"There was once a time we had both Vince Lombardi and Tom Landry on our staff at the same time as assistant coaches," Mara said. "I told my father, 'If you had just kept one of them, it would've saved me a lot of headaches as a kid.'"
Mara was followed by general manager Jerry Reese and head coach Ben McAdoo. The 2017 draft class took the stage next, followed by a group of veterans – Eli Manning, Landon Collins, Janoris Jenkins and Sterling Shepard.
The night ended with two more Super Bowl heroes – Justin Tuck and Plaxico Burress – who joined Manning on stage to celebrate and reminisce about the 10th anniversary of the 2007 championship season. The two former Giants were met with a standing ovation from the crowd.
Here are some other highlights from the Q&A sessions with fans:
On how the offseason and OTAs are progressing, McAdoo said:
"We're making important progress right now, whether it's scheme or in the program itself. We feel that if we can make small gains, one percent gains each day, those will add up and the cumulative effect will help put a fifth trophy in the case."
On which opposing quarterback he's most looking forward to playing, Dalvin Tomlinson said:
"I played in the SEC and I've already sacked Dak Prescott a couple of times, so I'm looking forward to playing the Dallas Cowboys in Week 1."
On what kind of pranks Eli Manning likes to play, Sterling Shepard said:
"One time Eli told me, 'Hey Shep, what's that over there?' So I looked and he said 'no, it's in the sky.' I looked up and I should've known something was up. He tries to shove this big piece of dirt in my mouth. And he's always writing sneaky little notes on my weight card. So I go in and there's always something crazy written on my card."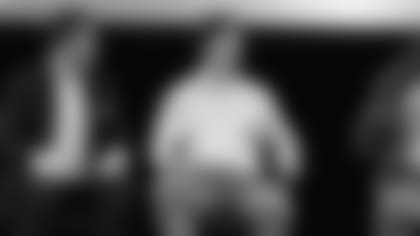 On his memories of the Super Bowl XLII play to David Tyree, Manning said:
"I'd like to thank David Diehl here and the rest of the offensive line for not blocking anybody. For that play to lead to a Super Bowl victory is the play I'm most proud off."
On his memory of catching the game-winning touchdown in Super Bowl XLII, Burress said:
"Right before the play we're in the huddle, and Eli said, 'Hey, if you get single coverage I'm throwing it to you.' I said, 'There's no way they're going to single cover me.' It was actually cover zero, with no help. I was thinking hurry up and just throw it. Now that it's been 10 years, you realize how special that moment really was. You look back, and it was one of the most unselfish teams I've ever been a part of. That's rare in pro sports. We played for each other."
On what 'Once a Giant, Always a Giant' means, Tuck said:
"There's the phrase 'Once a Giant, Always a Giant.' So when Eli and crew win that third title, I want another ring."
Former and current Giants gathered for the third annual Giants Town Hall presented by NewYork-Presbyterian.