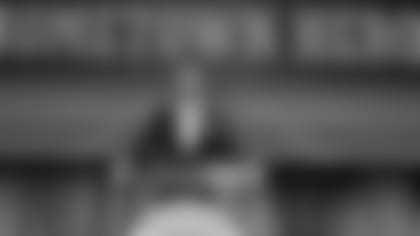 MARK HERZLICH HONORED BY UNITED WAY AT GRIDIRON GALA
BY MATT COHEN
Few professional football players have had a journey quite like Mark Herzlich's.
In 2009, prior to his senior season at Boston College, Herzlich contracted Ewing's sarcoma, a rare form of bone cancer. The doctors told him he had a 10 percent chance of survival, and that if he did survive, he would spend the rest of his life with a limp, meaning his football career was over.
Herzlich didn't just survive cancer, he conquered it. The New York Giants linebacker is now a seven-year veteran in the NFL. He's spent his entire career with the New York Giants, winning Super Bowl XLVI with Big Blue in his rookie season.