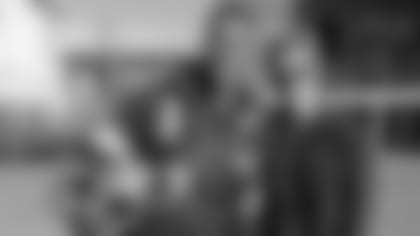 MICHAEL STRAHAN SUITS UP ON INTERNATIONAL FIREFIGHTERS DAY
BY MATT COHEN
For 15 NFL seasons, Hall of Fame defensive end Michael Strahan knew the fit of only one uniform – the New York Giants.
On Thursday, Strahan, now an anchor on ABC's Good Morning America, traded in his jacket and tie to put a uniform on again, except this time he suited up as an FDNY firefighter.
Strahan, along with another former Giant and current GMA anchor Jesse Palmer, marked International Firefighters Day by shadowing FNDY firefighters in a simulated fire. The simulation took place at the FNDY's training facility on Randall's Island.
Strahan, Palmer and the FNDY firefighters were also joined by actor Denis Leary, who played a firefighter on the hit FX television show, Rescue Me. The veteran actor started the Leary Firefighters Foundation back in 2000, and it has since raised more than $10 million to support fire departments around the country.
Strahan and Palmer were decked out head to toe in all the proper FDNY equipment before the simulation at 'The Rock' began. The two GMA anchors were led by a pair of FDNY veterans, Chief Frank Rosciano and Captain Brian Voos. Strahan was part of the "ladder company" while Palmer joined the "engine company."
"Doing it gave us so much more respect for what these guys do every day," Strahan said after the exercise was over. "That is very intense. You see why these guys are the bravest, because that is not the easiest thing to do."