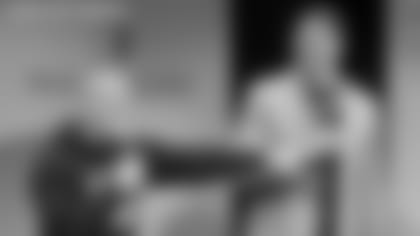 MICHELLE OBAMA INVITES DAVID DIEHL TO COLLEGE SIGNING DAY
BY MATT COHEN
David Diehl had met Michelle Obama twice before.
The first meeting came five years ago, when the Giants were honored by President Obama at the White House following their victory in Super Bowl XLVI. The second time was in their hometown of Chicago.
This past week, Diehl met the former First Lady on a third occasion, when he was asked to speak at an MTV-hosted event to celebrate National College Signing Day 2017.
"Someone from Michelle's camp reached out to my agent and got my number, and they ended up calling for me to come and show up," Diehl recalled. "She sent me a handwritten letter which was unbelievable. Right away when I saw her, I had my Illinois stuff on, and I introduced myself again and told her it was great to see her. It was a truly unbelievable day."
Diehl was one of many stars at The Public Theater in New York City last Friday to address more than 200 students from across the city. The lineup included the likes of Michael B. Jordan, Neil Patrick Harris, Nick Cannon, Robin Roberts, Zoe Kravitz and Billy Eichner. Michelle Obama capped off the event as the keynote speaker. Each celebrity came out on stage in apparel representing their alma maters.
(Video below; Diehl speaks at 54:30 mark)
Diehl appeared with Bravo TV's Andy Cohen (Boston University) and supermodel Christy Turlington (NYU). The two-time Super Bowl champion stressed the importance of goal-setting and maximizing the college experience.
"They're getting an opportunity to go to college," Diehl said. "The success you have when it comes to school and academics is largely based on who you surround yourself with. If you're the smartest one in the room, you're in the wrong room."
Like the former First Lady, Diehl was born in Chicago. He attended the University of Illinois, where he started every game for the Illini at left guard during his four-year career (1999-2002). Diehl graduated in three and a half years with a degree in communications, and then completed a masters in human resources. He was a five-time Academic All-Big Ten selection.
"My parents didn't go to college," Diehl said. "I was given the ability to go to a major university like Illinois that neither one of my parents would have been able to afford had it not been for my football scholarship. So I stressed that, for me, I always made sure that the student came before the athlete. I made sure that I took full advantage of that opportunity."
Since retirement, Diehl has put his communications degree to good use. He's been an NFL color analyst on FOX since 2014, and a regular on-air talent for Giants' programming.
MTV live-streamed the entire college signing day event on Facebook. You can watch Diehl by clicking here and fast forwarding to the 54:30 mark.