Most fan caves feature game-worn memorabilia that collectors gathered over the years.
But few have a homemade item that actually made its way onto the field with a player, especially during a moment as important as honoring the heroes and victims of Sept. 11 while an NFL franchise opened a new stadium.
Ed Magenheimer has that distinction.


From one man who wears a helmet at work to another, Magenheimer, a 25-year veteran fireman of Shrewsbury (N.J.) Hose Company No. 1, brought a one-of-a-kind object for defensive end Justin Tuck to sign during a public appearance at a car dealership in the spring of 2010. Magenheimer painted an old fire helmet of his in Big Blue colors, and it caught the eye of the former New York Giants defensive captain.
"The passion for both, I just wanted to make something that would come together as both, and sure enough, I made the helmet and it had to have the Giants logo on it," Magenheimer recalled.

"I brought the helmet in and he goes, 'Where did you get that?' And I said, 'I made this,' and he said, 'I would really love to wear this to honor 9/11.'"



A few months went by, and Magenheimer, not knowing if Tuck would wear it, took his seat 30 rows above the home team's tunnel for the inaugural game at MetLife Stadium on Sept. 12, 2010.
"So as the team came out of the tunnel, the special teams and offense came out first, and then they started announcing the defensive players one at a time," Magenheimer said. "And sure enough, Justin Tuck was the last one being introduced -- 'And here's your defensive captain, Justin Tuck!' -- and he came out running with the helmet on. I was filming the whole thing, and I dropped my camera screaming. It was such an incredible, incredible feeling, watching him wear my fire helmet to honor 9/11."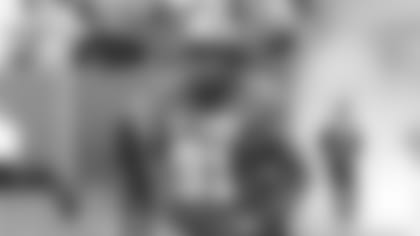 Former captain Justin Tuck runs out of the tunnel wearing Magenheimer's helmet before the first game at MetLife Stadium.


The Giants won, 31-18, over the Carolina Panthers, and a year later the team was on its way to claiming its fourth Lombardi Trophy in Super Bowl XLVI.
To this day, every Giants fan knows the iconic photo of Tuck, which he signed and sent back with the note: "To: Eddie Mags, Thank you for letting me wear your helmet."
Every Giants fan also wants one of the helmets, including Magenheimer's son.
"I took my son to his very first game this year, and when he found out that I was taking him, he goes, 'Dad, can you make me a helmet just like yours?'" Magenheimer said. "It was three days before the game, so I said, 'Let me see what I can do.' And I took a little mini helmet and now it's a Giants helmet for him."
The helmet is just one of the many prized possessions in Magenheimer's fan cave in Eatontown, N.J.
In addition to all the signed jerseys, helmets, pennants, and everything in between, Magenheimer naturally has one of the most extensive collections of Hess Toy Trucks.
"Obviously, being a fireman, I've got a lot of the firetrucks here on display," he said. "I've got the new one from 2015, and the one from 1970 means a lot to me because it was one of the first trucks I ever got. And basically, for all I know, it could be the reason why I'm a fireman today."
A hallmark of the holiday season, the Hess truck tradition dates back to 1964 when Leon Hess, the late founder of the Hess Corporation, decided to offer a fun, high-quality and affordable toy for families like Magenheimer's.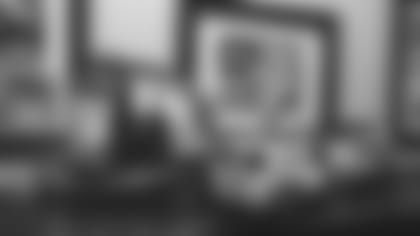 The famous fire helmet is displayed next to one of the many Hess Toy Trucks in Magenheimer's collection.


"For Christmas, my parents would actually get us the Hess Toy Trucks every year, and I would collect them," Magenheimer said. "As I got older, when I was able to buy my own, I wouldn't wait until Christmas, I had to get it right away. So on the date when it came out, I actually went out and got them. I've got 41 of the trucks."
Another source of pride in Magenheimer's fan cave is ticket stubs, one of which has a photo of himself on it.
In 2011, the Giants featued a photo of a season ticket holder on each of their 10 home game tickets. Magenheimer was selected to be on the ticket for the Dec. 4 game against the Green Bay Packers, and of course, he wore the helmet in the photo.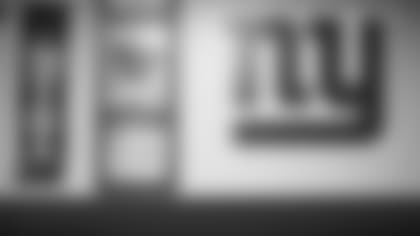 Hanging in the fan cave is a signed replica of the ticket Magenheimer appeared on in a 2011 game against Green Bay.


"That was so cool," Magenheimer said. "I can't thank the Giants enough, first of all. My picture, my name, everything is in the game bill, the program, and all that stuff. And then I got to be the honorary captain at the 50-yard line. As they're flipping the coin, I'm standing there, there's Justin Tuck, Eli [Manning], and it was such an incredible feeling. It was so awesome. As a fan, you could only dream of this thing happening and it actually came true. All those years of being a Giants fan, it makes it all worth it."
The same could be said for his decades of service as a fireman.
When the Giants celebrated the silver anniversary of Super Bowl XXV last season, Magenheimer celebrated his 25th year with the fire department.
"This year's going to be special," he said last year. "It'll be the 25th year of the Giants celebrating their Super Bowl XXV, the 25th anniversary. So it hits home; it feels like we're a part of one."