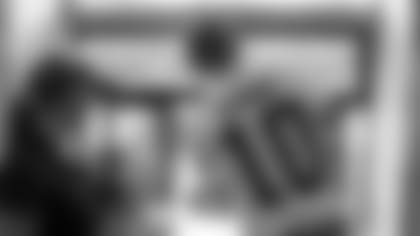 NATIONAL DONUT DAY WITH ELI MANNING AND SHAUN O'HARA
BY MATT COHEN
Those are the words of the iconic character Homer Simpson, of the long-running animated comedy, The Simpsons.
Those words will be said by many this Friday, also known as "National Donut Day." Celebrated annually on the first Friday of June each year, the holiday actually has roots that date back to the mid-1930s.
To celebrate everyone's favorite circle of fried dough, here's a look back at when Giants' quarterback Eli Manning surprised customers when he took the counter at a local Dunkin' Donuts in Secaucus.
The surprise appearance five years ago kicked off a partnership between the popular donut chain and the two-time Super Bowl MVP. Manning has since appeared in numerous commercials and promotions.
Not to be outdone, former Giants' center Shaun O'Hara paid a visit to a local Dunkin Donuts in the fall of 2015. Not only did O'Hara take orders, pour coffee and hand out munchkins, O'Hara gave some lucky customers a free breakfast.
The free breakfasts also came courtesy of the New Jersey Lottery, to show that 'Anything Can Happen in Jersey'. Of course, a prerequisite was whether or not you rooted for Big Blue.
Want more Giants LifeStyle? Click here