On Dec. 31, 2006, Carolina Panthers safety Shaun Williams had four solo tackles and broke up a pass in a victory at New Orleans. It was the final game of Williams' nine–year NFL career, the first eight spent with the Giants.
For three years, Williams had been plagued by injuries. In 2004, Tom Coughlin's first season as head coach, he played in only two games before a torn meniscus in his knee sent him to injured reserve. The following season, his last with the Giants, he was limited to eight games because of a hamstring injury. In 2006, he joined the Panthers to play for former Giants defensive coordinator John Fox, then Carolina's head coach. But a toe injury forced him to sit out four games.
Williams contemplated coming back for a 10th season, but "at that point I just felt my body was telling me it was time to move on."
But to what? Williams was 30 years old when he retired from the NFL. Like thousands of other professional athletes, Williams didn't know how to fill his time when he had no more practices to attend and games to play.
"I took two years of not doing much, and just sitting there and reflecting," Williams said. "But I knew I wanted to get back into football. I knew that was the one thing that made me excited, and made me feel good. I loved everything about it."
With help from former Giants teammate Charles Way, Williams was hired in 2009 as a defensive assistant at William Paterson University, a Division III school about a 20-minute drive from MetLife Stadium. Four years later, he was promoted to defensive coordinator, a position he still holds. The team started this season 2-6, and Williams' defense has struggled at times, but the tough times haven't diminished his love for the game, or his job.
"One thing football has taught me throughout my life and through playing and coaching is there's always adversity," Williams said. "There's adversity in life every day. Obviously, this year hasn't gone as we planned so far, but the only thing you can do, the only thing I've been taught to do, is keep fighting, no matter what the situation is. Because once you give up, then it's over. You have no chance to get better and improve yourself. My motivation every week is to be the best I can be win, lose or draw."
Williams eventually wants to be a coordinator in a major college program, but is happy at William Paterson.
Jerry Flora, in his eight season as the Pioneers' head coach and 14th at the school, said Williams has made great strides as a coach, and is well-liked and respected by his players and the other coaches.
"I think the sky is the limit for him in terms of what he wants to do and where he wants to go," Flora said. "I think at some point he may become a good head football coach if he continues to develop as he is. I told him I would help him anyway I can. I think there are a couple things he has to continue to improve on, but in just a short period of a year as a full-time coach his ceiling has risen. It is up to him. It is whatever he wants to do. I know the conversations we've had he loves it here and he loves working here at the university. He loves the players, he loves the families, and I would love to have him as long as I could have him."
Flora hired Williams, with an assist from Way, who was then the Giants' director of player development, and is now the head of the NFL's Player Engagement Department. One of Way's ambitions was to help former Giants get into coaching. Way and Flora ran football camps together and became friends.
"I knew that he was looking for coaches, and said, 'Would you be willing to offer some of our guys an opportunity to get their feet wet in coaching?'" Way said. "'Obviously, you can't pay them much, but it gives them the experience to understand if this is something they really want to get into. And it helps you, because you don't have the budget to pay for a staff of 10.' And he said,' Sure, let's do it.'
"The craziest thing about Shaun is he had an opportunity to coach D1 football, but couldn't because he didn't have his degree. You don't need a degree to coach Division III. It gave him an opportunity to a) go to school to get his degree at William Patterson (where he completed his requirements; Williams' degree is actually from UCLA), and b) get some coaching experience. It was a win-win for everybody. Now he has his degree, and if there is an opportunity in Division 1 he can take it. And it's given him the experience from the dirt job of cutting and breaking down film to writing scripts, doing the low man on the totem pole job, to now being a defensive coordinator, and understand what goes into running a defense."
"The Giants are great with helping former players, and I am just another instance of them helping a former player," Williams said. "(Way) helped me get this job here, and I try to do my best with it and run with it."
Williams' position was originally going to go to Sam Garnes. The irony is that they were the Giants' starting safeties from 1998-2001, including Super Bowl XXV, and were close friends. But Garnes chose to go work with their former head coach, Jim Fassel, with the Las Vegas Locomotives of the United Football League. He is now the Chicago Bears' assistant secondary coach under Fox.
Flora was happy to hire Williams, particularly since his new coach had one trait that most impressed him, and which he thought would help him grow in the job.
I knew I wanted to get back into football. I knew that was the one thing that made me excited, and made me feel good. I loved everything about it.
"His humbleness," Flora said. "He knew football, which I knew. He was motivated. One of the things I try to do is try to build a program from character. It is nice to have guys that are a different style than what I am, but at the same token there are certain attributes that I look for. He was willing to learn. He asks a lot of questions when we met, which I thought was interesting. He didn't feel like he knew more than I knew. I am not saying I know a lot, because I am always trying to learn more and more. Shaun had a willingness to learn. He seemed like he was self-motived. He seemed well-organized. At that point, he was a (part-time) assistant. He has obviously taken the step now where he is one of my full-time assistants. It has been a learning curve for me and for him over the course of the last 6½ years."
Williams enjoys everything about the job, from the long hours of breaking down tape and game-planning, to the daily interaction with the players in meetings and at practice, to making calls and devising adjustments during games.
"I love the camaraderie, the competitive nature of the game," he said. "Preparing for opponents. Those are all things that I enjoy doing. I knew when I was just sitting around and taking my time to reflect that I wanted to get into coaching. I was ecstatic when I got this opportunity."
Williams' defense has evolved since he first took the reins.
"We do quite a few different things," he said. "When I first started I was much more of a blitz-happy kind of guy. I wanted to blitz a lot. But there's a high-risk, high-reward with blitzing. Now we run a 3-4 system, and I want to get my guys in the frame of mind of having a system in place where it is structured to where they can practice the skills that we are going to use on game day."
He has also learned to really his players after they have performed poorly, or suffered a lopsided loss.
"I think you have to, as a coach, gauge the temperament of your team," Williams said. "Are they down in the dumps? You don't want to beat them down even worse after they come off a loss like that. So you want to build them up, but you want to be honest and frank at the same time. You say, 'See this play right here, we need to execute this better. You need to play a better technique here. Your eyes were bad here.' You still coach them, but you don't want to beat them down or degrade them to the point they shut you out and they feel like they can't come back from it. At the same time, you show them the mistakes, show them how we can improve, and how to make better plays in the game, and hopefully that carries over to your next game you don't make those mistakes and have the same outcome."
Williams frequently draws on his playing career to help instruct his current players.
"I tell guys all the time, "I don't remember a lot of good plays I made, I remember a lot of bad plays I made,'" he said. "Those are the things as a competitor, not that you dwell on the things that went wrong, but you keep those in the back of your mind. Those were the things that motivated you to improve and get better. You don't want to make the same mistake twice. The message to my players, is 'I've been on good teams, I've been on bad teams and I've had tough losses. As a competitor, your motivation is to not have a bad play be your last play. You want to make sure your last play you put out there, hopefully is a good play. Hopefully the last game you play you win and so forth.' If you're a competitor, you're always going to go out and compete, so that's what I tell my guys" 'Be a competitor, go out and compete every day.'"
The players not only respond to the message, but they enjoy playing for the coach who delivers it.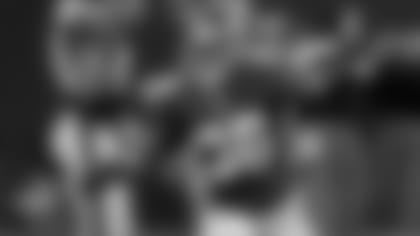 "It is special," said senior safety Tom Hennessy of Hazlet, N.J. "Since I have been here, I have become so much more of mature football player and as a person through what Coach Williams has taught me. Anything I need Coach Williams is the first person I would go to."
Hennessy said Williams' coaching style perfectly blends discipline. Instruction, and friendship.
"If you have a good relationship with him, you can find his soft spots and joke around with him," Hennessy said. "At the same time, he knows exactly when to turn it on. He knows when to have fun and when to be serious. He is also the perfect role model. He is your friend, he is like your big brother, an uncle, a father, all-around great role model. He is an amazing coach.
Many of the Pioneers players learned about Williams' Giants career after they enrolled in school and began working with him.
"I transferred here from SUNY-Cortland," said defensive end Quinton Witherspoon of New Rochelle, N.Y. "Word around town was that we had a coach here who played for the Giants. I didn't really know much about it. Once I got here and introduced myself and met him I went onto YouTube to look him up."
Witherspoon was impressed with what he learned. And he is among the legions of Williams admirers at William Paterson.
"He is always willing to explain anytime someone has a question," Witherspoon said. "He is willing to take questions. He demands everyone ask a question during meetings, because even though this person is asking a question and eight people might know it, there might be a couple people that do not know it. He is always doing a good job of explaining things. If (a player) doesn't understand it, then he will explain it another way. He does a good job of breaking things down. He does a do a good job of teaching and making sure all his players understand it.
"He serves as a mentor for me and is someone I can look up to. If I ever have a problem I can always speak to him. He is a great person to have in my life at this point."
"I love working with the kids," Williams said. "That is really the one thing that keeps me kind of young. It keeps me grounded. I try to take my experience that I had throughout my life being a student-athlete and being a professional football player and try to guide these kids here, and be a mentor to these young men and hopefully help them understand how to be successful in life."
As much as he loves his job, Williams is surprised he has it on one respect: he never thought he'd still be in New Jersey this long after his career. He was raised in the Los Angeles area, and starred at UCLA. Moving east when he joined the Giants was like traveling to another planet.
"I am pretty much the same laid-back California guy," said Williams, who has children living in both states. "I'm still bi-coastal. I try to get back as often as I can. My brother and my mom have moved to Texas. My dad moved about an hour outside of (Los Angeles). It is a lot of travelling. Obviously, I have work here. I still get back to the weather as much as I can."
"We always bust his chops when the temperature drops below 50," Flora said. "He is out there with earmuffs and gloves. I'm like, 'It's 50 degrees, you have to be kidding me.'"
It's been like that since Williams joined the Giants in 1998. That year, he was the team's first-round draft choice (24th overall), and the first selection of Ernie Accorsi's tenure as general manager. The Giants weren't looking to draft a safety, but Williams' grade was far higher than any other player remaining on their board.
"It was funny, because I was told I was supposed to go higher to Green Bay," Williams said. "I was kind of bummed out when Green Bay didn't draft me. But going to New York wasn't so bad. I was like, 'I'll take New York over Green Bay, no big deal.' I was very excited when I was drafted by the Giants. Who wouldn't want to get drafted by such a historic organization? Everything about New York is special."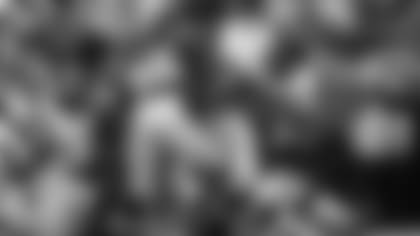 When he arrived he met Garnes, a fifth-round selection three previous years. The two young players quickly became friends, and partners on the field.
"Playing with Sam Garnes was a great experience," Williams said. "I came in and he took me under his wing, and he made the transition easier for me from college to the pros. He took me around the city, because he is from New York. He is definitely a person I was very grateful to have when I came to New York."
After playing as a reserve for two seasons, he started 58 consecutive regular-season games and four postseason games from 2000-03. During those four seasons he was credited with 329 tackles and had nine of his 15 career interceptions. Williams had a team-high seven tackles in the Giants' Super Bowl XXV loss to Baltimore.
"The whole experience of going to the Super Bowl was special," Williams said. "You have to find a silver lining. It hurt that we didn't win it, but I can always say that I did play in the Super Bowl.
"I felt like I was at a time where I was coming into my own. I was excited about the future. Unfortunately, injuries struck after that, but I definitely look at that period of time as the best time I had in my career."
It was in that time frame that Williams first began to consider a career in coaching. He credits
Dwayne Walker, the secondary coach under Fassel in 2002-03, with planting the seed.
"He would give our secondary assignments before each game, and I was usually in charge of red-zone, two-minute and third-down passes," Williams said. "That kind of got me started and gave me the itch to you know what maybe one day I want to do this. After I was done playing ball. I wanted to do something involving football. I missed the camaraderie. I missed just being out there on the field and the competitiveness of football. I got a call from Charles Way. He told me about Coach Flora and the rest is history."
In his eight years with the Giants, Williams played in 92 regular-season games with 60 starts. He had 413 tackles (309 solo), 13 interceptions, 4.5 sacks, two forced fumbles and two fumble recoveries. In four postseason starts he added 17 tackles (13 solo) and a sack.
"It was the greatest experience of my life," Williams said. "You don't realize it until you are outside of that locker room how special it is. I know when I was there a bunch of guys used to tell me enjoy this time. The coaches used to tell me enjoy this time. I feel like I did for the most part. Looking back, how could you not miss that. How could you not miss waking up every day, you have Michael Strahan, you have Tiki Barber, you have Amani Toomer as your teammates. Those are the guys that you are going to work with. It is an exciting time in your life. To get to compete on Sunday's in front of the nation is something great."
Williams no longer plays in front of millions of people. But he is a vital member of a football team, fulfilling his love of competition, and performing a job he loves.
"I feel like I'm growing, I feel like I learn a lot from my coaching staff and from my players," Williams said. "Just through experience. I definitely think I'm improving. I want to improve, I want to move up the coaching ladder. I enjoy it. No matter what, I enjoy the grind. I got involved in coaching, because it gives you the regimen of a player. I'm a little bit more involved now, obviously. But the camaraderie, being around the team, having a new opponent every week—those things are exciting to me. That's what I love about it.
"This is what I want to do. I love the week-in and week-out preparing for opponents. It's never stagnant, it's always something new. Then you go into recruiting and things of that nature. To me, it's just a competitive career. You're always competing against other coaches, other schools to try and improve. I love competing, so that's why I think I definitely want to stay in this line of work."
Shaun Williams and coaching are headed for a long-were relationship, which will clearly benefit both parties.