Michael in Connecticut: Will you draft another tight end? I understand that you traded for Waller plus we still got Bellinger as well, but will you consider drafting another tight end like Notre Dame's Michael Mayer or Oregon State's Musgrave ? With the first pick, should they move up to draft a cornerback or wide receiver? Or stand pat and go the route best player available or draft a center? We need a mean center!!
There's a lot to unpack here. I would not rule out the Giants selecting a tight end in the draft given how strong and deep of a class it is. A first-round pick? That might be a little rich given the addition of Waller, and the play of Daniel Bellinger last season. Never say never about a trade if an outlier high on the Giants board is there, but I think Joe Schoen values his picks, especially as he begins to pay the emerging young players on the roster. If the Giants take a center at 25th overall, I would wager it would be the top center in the draft. We'll have to wait and see.
Robert in Maryland: At the #25 pick, I believe definitely be open to the "Best Player Available" doctrine, not just the best WR, OC, CB??? What about a DT, a Keanu Benton of Oklahoma, Isiaki Ika from TCU or Cam Pickens of South Carolina! We didn't have a winning record in our division, teams ran the ball down our throats. Big, disruptive, violent at the point of snap? What about a Steve Avila from TCU , replace Glowinski next to Neal, or a Dawand Jones of Ohio State building a wall for Daniel Jones? GO GIANTS!
I would be surprised if they picked an offensive tackle in the first round given the draft capital they have used on Evan Neal and Andrew Thomas. If they draft a guard like Avila (who also played center), that player would more likely get an opportunity at left guard or center rather than right guard. But you can never go wrong picking the best player regardless of position. And whether it is offensive line, defensive line, wide receiver or cornerback. Whatever player has the highest grade will determine whom the Giants pick, with things like need and positional value posing as a tiebreaker.
John in Florida: I see the Giants hooking up on a DL in the 1st round. Everybody talks wide receivers but the facts are the Giants have 2 defensive linemen in free agency next year. The Giants have to cover their bases. What DL do you feel will fit in the Giants D?
Joe Schoen has been pretty transparent that defensive line depth is a big focus for the Giants. They addressed it by signing Rakeem Nunez-Roches in the offseason, but they can always use more youth at the position. Considering the nature and talent of the class, I'm not sure that need will meet value in the first round (though who knows who might drop to them there), but there will be defensive tackles available later in the draft.
Joe in Virginia: Many draft analysts connect the Giants to a CB or WR in the first round, which is understandable. Have you heard any buzz connecting the Giants to Nolan Smith? He is a crazy good athlete who I think might be perfect for Martindale's "positionless" defense.
I agree with your analysis, but I think the reason you haven't seen many connections is because it's very unlikely he will still be on the board at 25th overall.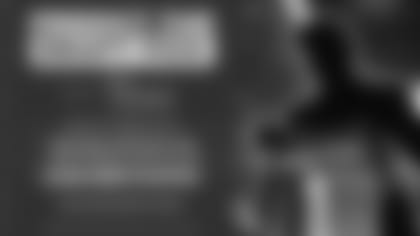 Predict The Pick presented by Dunkin'
Make your predictions for the Giants' first pick in the 2023 draft for a chance to win free Dunkin' coffee for a year and an autographed jersey.