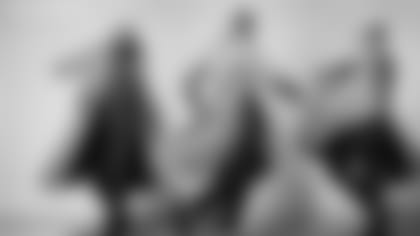 ODELL BECKHAM JR. LANDS ON SI's FASHIONABLE 50
BY MATT COHEN
Whether it's his play on the field or his style off the field – Odell Beckham Jr. knows how to make a statement. His signature blonde hair has cemented his status as one of the world's most recognizable athletes.
This week, Sports Illustrated released its second annual "Fashionable 50", which spotlights the most fashion-forward athletes from around the world. The Giants star wide receiver is on the list again, and this year came away with "The Swag Award".
Here's Beckham's write-up from SI:
"It may be the hair—which has become a standard in barber shops around the country—or his hip-hop influenced personal style, but OBJ is a fashion killa. Whether he's wearing...deconstructed denim or his layers on layers of gold chains, Beckham is confident in his clothes and always carries himself with an unmatched level of coolness."
Voting for the Fashionable 50 was comprised of a six-person panel featuring another New York legend who knows how to dress to impress, NBA Hall-of-Famer Walt "Clyde" Frazier. Athletes were evaluated for more than simply how they dress, but how they wear it, where they wear it and why they were it.
NBA star Russell Westrbrook took home the No. 1 spot on the list, and former Giant Victor Cruz landed right behind him at No. 2. Serena Williams, Roger Federer and LeBron James rounded out the top five.
Check out the entire Fashionable 50 list, including all of this year's awards here.