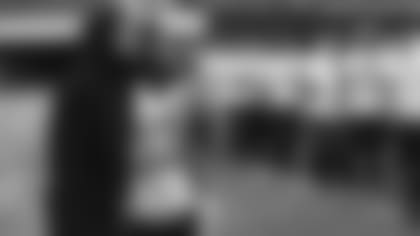 ODELL BECKHAM JR. HELPS RUN FOOTBALL CLINIC
Dunkin' Donuts Catch of a Lifetime campaign spotlighted the amazing work being done by youth football programs throughout the Metro NY market. The Van Cortlandt Titans from the Bronx were the winning team selected from thousands of entries to attend a football clinic at MetLife Stadium. The entry submitted from the Van Cortlandt Titans coaching staff stood out amongst the rest as it showcased the amazing efforts and perseverance exhibited by the team's players to work tirelessly for a better future.
"Football give you a lot of structure and teaches you a lot of things," Beckham told the group. "At the end of the day, your education is the most important thing. You never know what can happen when you're out here. It doesn't matter where you come from."
During the event, the Titans experienced a hands-on clinic with the NY Giants wide receiver Odell Beckham Jr. Odell threw passes, showed off some dance moves, took photos, answered questions and interacted with the winning team. Dunkin' Donuts was thrilled to provide the Van Cortlandt Titans with this once-in-a-lifetime experience.