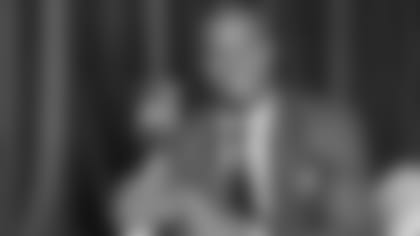 OSI UMENYIORA WINS AWARD FOR NFL COVERAGE
BY MATT COHEN
Osi Umenyiora won two Lombardi Trophies as a member of the New York Giants. On Tuesday, the two-time Super Bowl champion and current NFL ambassador to the United Kingdom added another piece of hardware to his resume.
Umenyiora walked away a winner at the 2017 Royal Television Society (RTS) Programme Awards in the Sports Presenter, Commentator or Pundit category. Umenyiora won the award for his NFL coverage on BBC Two, specifically for his work on Race to Super Bowl 50, NFL This Week and The NFL Show.
"It's such a physical and a visually beautiful sport to watch," Umenyiora said after winning the award. "The Brits are similar to Americans, and Americans love it. So I think it's just going to keep growing over here."
"Osi is charismatic and knowledgeable and makes compelling viewing as he combines a sense of fun with a decade worth of NFL experience to the BBC coverage. He's versatile for serious or light-hearted issues and understands the U.K. market needs to appeal to passionate hardcore NFL fans and also to new fans of the sport," the Royal Television Society judges stated upon awarding Umenyiora.
After a 12-year career, Umenyiora hung up his cleats following the 2014 season, although he didn't officially retire until signing a one-day contract with the Giants in August of 2015. Since then, he has seamlessly transitioned into his new role as NFL ambassador, working to promote the sport through the NFL's International Series in addition to his award-winning on-air work for the BBC.
"I think back then people didn't know what they were rooting for," Umenyiora told Giants.com's Bob Papa last year. "I think everybody was kind of like, 'Hey, we're here.' But I think now the fans have grown. They understand the game a lot more."
Umenyiora, now 35, was born in London to Nigerian parents and spent the first seven years of his life there. He's a two-time Super Bowl Champion, a two-time Pro Bowler and a 2015 inductee into the Giants Ring of Honor.