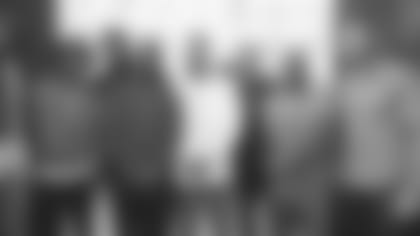 RASHAD JENNINGS HOSTS SECOND GIANT NIGHT OF COMEDY
BY MATT COHEN
Anyone who knows anything about New York Giants running back Rashad Jennings knows that he loves to laugh, and he embraces any opportunity to give back and make a difference.
Combine those two, and you end up with a Giant Night of Comedy, a show at Gotham Comedy Club in Manhattan that benefits the Rashad Jennings Foundation. Jennings formed the event in 2015, and it was so successful, he brought it back for another go-round this season.
"It's a great opportunity for men and women to come out here and support the foundation," Jennings said. "I can spill my heart a little bit and tell them why I do what I do and why I'm so passionate outside of the game. Also doing it with the medicine of laughter. Laughter is a universal language. I think if we can connect on that level first we can pay it forward and make an investment in our community for generations."
Among the headlining acts were comedians Michael Blackson, Mark Normand and Gilbert Gottfried. Tickets for the show ran for $199, with all proceeds going directly to the Rashad Jennings Foundation.
The foundation seeks to inspire youth by making education fun, providing mentorship for individual success and promoting health and fitness worldwide, according to its mission statement. Jennings achieves these goals with literacy challenges, Play 60 events and mentoring programs.
Jennings, who has spent three seasons with Big Blue, is one of the most popular Giants inside the locker room. That's why so many of his teammates came out to the comedy show, including Jason Pierre-Paul, Olivier Vernon, Damon Harrison, Justin Pugh and many more.
"Having my teammates here to support me means a lot," Jennings said. "The men that you go to work with every single day and the men that you win with and the men that you lose with, to come out and support you outside of the game of football means a lot."