Charlie Burt has faced adversity his entire life. The 17-year-old Mahopac High School senior was born without a left hand.
"We were a little nervous at first, but basically we just figured it out," said Nicole Burt, Charlie's mother. "He was born happy and healthy and he was the healthiest little baby – 9 pounds, 9 ounces. Daddy said right away he would be a football player."
Daddy – aka Robert Burt – was right. Charlie not only played football, he excelled at it. He picked up the sport at an early age, playing in the Mahopac youth football program from the time he was in the third grade. Fast-forward to 2016. Charlie, as a coaches' captain, started on the offensive line at guard and center for the Indians. He was an all-league lineman who played in this year's Section 1 Exceptional Senior Game.
At a special ceremony, Charlie was met with two surprises. The first of course, was realizing he had won. The second surprise came in the form of the award presenter – Giants running back Rashad Jennings, who the night before helped Big Blue to its biggest win of the season over the Dallas Cowboys.
"That was really cool," Charlie said afterwards. "I've watched Rashad play and the type of player he is. It's really awesome getting to meet someone like that."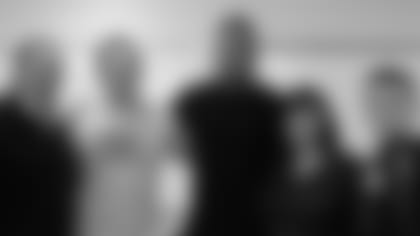 Charlie with his parents, younger brother Danny and Rashad Jennings
In his acceptance speech, Charlie spoke about perseverance, dedication and resiliency, all traits that made him a deserving winner.
Ever since you're young, people give you that little look like, he can't do this and I'm like yeah, watch me. It's that type of intensity that I always bring and that competitive nature. I never take no for an answer." - Charlie Burt
"We never gave him any special accommodations," added Mrs. Burt. "It was always, don't every hide your hand. You are who you are. God made you this way for a reason, and you're going to be ok. That was the attitude we gave him and that was the attitude he ran with."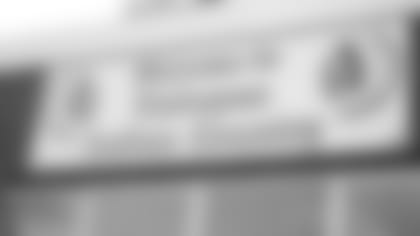 Charlie was a coaches' captain this season for the Mahopac Indians
Nominations for the Heart of a Giant award began back in September. Every week for the first six weeks of the Giants regular season, USA Football selected ten deserving nominees. From there, the field of 60 was winnowed down to six finalists. All six athletes were required to submit an original video, showcasing why they have the Heart of a Giant. Voting was open to teammates, classmates, family and friends.
In addition to the award, Charlie received a $5,000 equipment grant from USA Football and Hospital for Special Surgery for his school. The other five finalists received $1,500.
"Along with HSS, I am pleased to support this program to recognize commitment, teamwork, will, character and dedication in the local community," said Dr. Sam Taylor, Sports Medicine Surgeon at Hospital for Special Surgery. "Heart of a Giant is such an important program as it acknowledges high school athletes who use their love of football to overcome personal adversity and achieve their goals off the field."
"Playing center, snapping the football is unbelievable," added Dan Gant, manager of sponsorship for USA Football. "Most guys have to grab the ball with two hands when they get ready to snap it, and Charlie is doing it with one hand. And he's getting off the ball and blocking guys. What he's able to do with his disability – nothing can stop this kid. He has the Heart of a Giant."
"Football teaches teamwork, dedication, perseverence and so many other lessons," said Dr. Taylor. "These values will take you anywhere you want to go in life. Football teaches life lessons, just like Charlie talked about."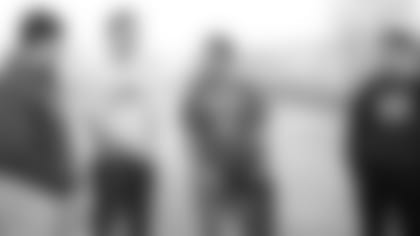 Younger kids on the football team all look up to Charlie
Charlie's impact in the Mahopac community extends well beyond the football field. He volunteers at Community Cares, Relay for Life fundraisers and helped organize a special needs baseball game.
"I've had players had an effect on me, and I know I had an effect on them, but I never met someone like Charlie," said Mark Langella, Charlie's football coach and chemistry teacher. "Just being around him made me realize that I'll be telling Charlie Burt stories for the rest of my football career and when someone is down on themselves because of some sort of obstacle, I will always tell a Charlie Burt story and what he was able to accomplish."
Speaking of chemistry, Charlie currently holds a 97 average in his SUPA chemistry class (an advanced chemistry course for eight college credits). His plan after his senior year at Mahopac is to attend Sacred Heart University in Connecticut and pursue a career in biochemical engineering. And yes, maybe play a little bit of club football while he's at it.
"I plan on coming back to coach the varsity football team too," said Burt. "My coach asked me to come back. I want to teach the values that I've learned through the game. I want to help build men and build character."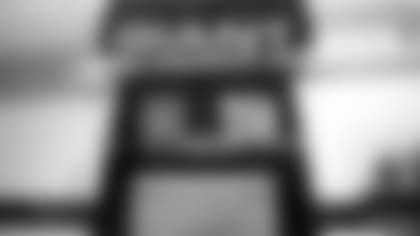 Charlie Burt - 2016 Heart of A Giant Award winner