Stance. Set. Aim. Transfer. Release.
This is not just the mental checklist of a running back before the snap. This is also what goes through the mind of an archer.
In his quest to become an all-around person as well as a complete back, Rashad Jennings broke away from his grind this offseason and wanted to pick up a new skill. It only made sense for the renaissance man who hails from a place called Forest, Va., to choose a bow and arrow.
"You know me, I can't help but to want to learn something new," the Giants running back said. "So this offseason it was archery. It was something fun, something very low maintenance that just kind of gets me away from the monotony of training all day long and kind of get back into nature."
Learning something new is not, well, new for Jennings.
After playing in Jacksonville and Oakland, the former seventh-round draft signed last season with Big Blue, which became his third team in as many years. At the time, Eli Manning and company were learning a new system under first-year offensive coordinator Ben McAdoo.
That's when Jennings leaned on fundamentals, just like he did when he stepped into the archery range for the first time.
"Having to learn something new, I always go back to the basics of learning, period," said Jennings, who can write with both hands, something he taught himself in college.
"You've got to be patient. You've got to learn the details, the fundamentals of the art. And eventually start picking it up and you can progress. So I'm just keeping my mind sharp."
Jennings was joined by former Jaguars wide receiver Mike Brown, an old teammate and friend of his from their days at Liberty University.
"Mike's like my little brother," Jennings said. "Coming from Liberty, we stick together, and we're learning with each other, training with each other, and planning on supporting and winning with each other."
Brown has known Jennings long enough not to be surprised when his friend, who plays football for a living, called him out of the blue to go take an archery class in South Florida.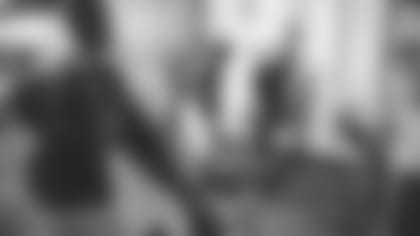 Rashad Jennings and former college teammate Mike Brown take archery lessons in South Florida. (Photo: Dan Szpakowski)
"He was the first person I met when I got to Liberty," Brown said. "Ever since then, it's always something new, whether it's card tricks, guitar. He hit me up, 'Hey, man, you want to go take some archery lessons?' So it's just always something new. It doesn't really catch me by surprise anymore. That's just who he is."
Added Brown: "He and I are similar in the fact that we like different things, trying different things, trying to learn different things. Obviously his horizons are much broader than mine, but it's fun. It's good to kind of get your mind away from football for just a second, but at the same time, it's a lot of similar principles of attention to detail and just being able to learn and adapt to different environments."
Aside from the physical tools that can be translated to the football field, Jennings said the major takeaway was more mental.
"I think it helps to relax," Jennings continued. "Playing football, we train all day with the group every day, all day long. So to take something off and kind of relax a little bit and aim at a target, I think lining up in the backfield, I might put a bullseye on somebody when it's time to be on goal line."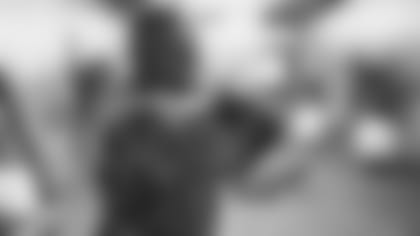 Jennings takes aim during target practice at the archery range. (Photo: Dan Szpakowski)
And just like that, Jennings checked archery off his list of desired skills.
Something must be working because Jennings is currently the Giants' leading rusher and recently propelled the team to victory in Week 4 over Buffalo with a 51-yard receiving touchdown. Through five games, Jennings has 292 yards from scrimmage, and his Giants won their last three games after a 0-2 start to take sole possession of first place in the NFC East.
So what's next for the seven-year NFL veteran? You just never know when it comes to a renaissance man.
"It's kind of an adrenaline rush," Jennings said. "It's kind of fun to know I can pick up something else outside of football to keep that adrenaline going."