What's more challenging for a group of early twenty-somethings – learning an NFL playbook, or learning how to cook?
That's what the Giants' 2018 rookies had to figure out, thanks to a group cooking class this month inside the cafeteria at the Quest Diagnostics Training Center. The class was led by the team's chef Angelo Basilone, who is also the executive chef of FLIK Hospitality Group. On the menu for the day were chicken fajitas, followed by sautéed shrimp with a vegetable pasta.
"I think we have some chefs here," said Basilone. "We want to make sure they know how to cook a meal, something that's healthy with lean proteins. Just be able to go home, open up the fridge and make yourself dinner. We're giving them tools to live life."
The rookies learned the basics – station prep, making proper knife cuts, seasoning technique and food safety.
"If you want to maintain that physique and the body that you want, then eating right is a huge part of that," said rookie quarterback Kyle Lauletta. "So it's very important and I'm glad we're getting to learn how to do this."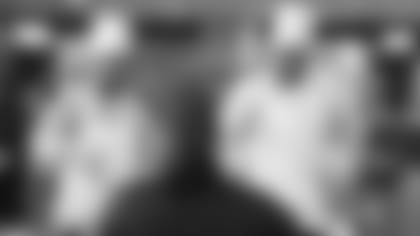 Of course, whether it's on or off the field, professional athletes are very competitive. Why should a cooking class be any different?
"On a scale of 1-10, what does this look like it's going to come out right now," said Giants.com's Brandon London to Saquon Barkley, as he watched RJ McIntosh and B.J. Hill sauté their chicken.
"A negative three," Barkley said.
"You don't even know your numbers, he said 1-10," McIntosh quipped back.
After a fun (and competitive) afternoon of cooking, the rookies packed up their chicken fajitas and shrimp pasta to save for dinner that evening. Some unfortunately packed an even bigger appetite.
"We're supposed to be making this meal to make it home," Will Hernandez said. "But I don't think it's going to make it home."