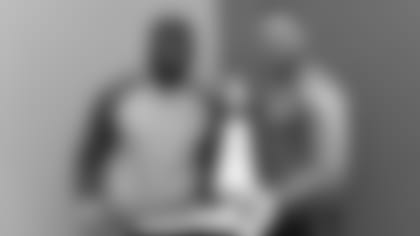 LANDON COLLINS VISITS IRELAND AND THE UK
BY MATT COHEN
Football isn't the only sport in Landon Collins' repertoire. The Louisiana native was a standout track & field athlete at Dutchtown High School and boasts a personal-best time of 10.28 seconds in the 100-meter dash.
Now Collins can add two more sports to the list -- hurling and Gaelic football. During a recent trip to Ireland, the two-time Pro Bowler put his athleticism to the test at Dublin's Clanna Gael Fontenoy GAA Club, where hurling legends Jackie Tyrell and Jamesie O'Connor plus Dublin football legends Mossy Quinn and Barry Cahill attempted to teach the NFL star a thing or two. Collins was joined overseas by Seattle Seahawks safety Early Thomas, Baltimore Ravens running back Alex Thomas, Philadelphia Eagles running back Jay Ajayi and longtime NFL defensive coordinator Rob Ryan.
The stop in Dublin was the opening act of a weeklong tour of Ireland, Northern Ireland and the United Kingdom as part of "NFL UK Live" -- a popular series of fan forums. The tour of Ireland also featured a stop at Liffey Trust Studios, an Irish dance studio in Dublin as well as a flag football event.
After a pair of fan events in Dublin and Belfast, Collins and the NFL athletes concluded their visit by taking in Tuesday's England vs. Italy international friendly soccer game at Wembley Stadium.
Check out some of the highlights and photos from Collins' overseas trip:
Landon Collins along with several other NFL players visits Ireland and Nothern Ireland for a series of NFL UK Live events. (Photos by Brendan Moran/Sportsfile)