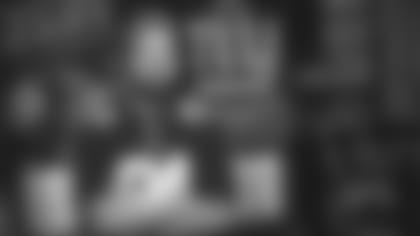 THE ULTIMATE GIANTS FAN CAVE
BY CHARLES MULE
Everyone has something they are passionate about in life. Whether it's a hobby, a job, or a sports team, we all look to something to help us through the week. For Brian Banks, it is his Fan Cave.
Banks currently resides in Berlin, N.Y., where he has an impressive collection of Giants memorabilia organized into a private room in his home. His collection ranges from football helmets -- big and small -- to framed autographed jerseys, bobbleheads, and even a mannequin dressed in a throwback Lawrence Taylor jersey that is topped off with a Giants helmet.
Banks also has unique items in his shrine, including photos with players he has met as well as framed newspaper headlines from the Boston Globe following the Giants' Super Bowl wins over the New England Patriots.
"My brother-in-law lives in Boston," Banks explained. "Both times we beat the Patriots, he sent me the Boston Globe. I love it. I think it's the best thing."
Banks became a Giants fan in the '80s, thanks to one of his brothers, and of course, L.T.
"Back in like '85, '86, my second oldest brother Mike was a big-time Giants fan," Banks said. "The only thing that ever came out of his mouth was, 'Stephen Baker, The Touchdown Maker.' Just that idea got me into the Giants more than anything else. Once I saw the games, L.T. obviously is the main reason I'm a Giants fan today."
Banks' collection continues to grow with the help of his wife, Kelly, who last year gave him a Giants ceiling fan.
"You don't see that very often," Banks said.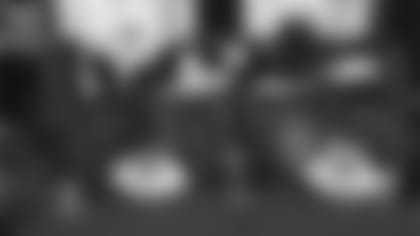 As far as attending games, Banks goes to them all with Kelly, and she even sometimes makes cakes for Giants players.
"In the past year year and a half, I've gotten into making cakes for Giants players past and present," Kelly said. "I've done quite a few Giants cakes now.
"One of my favorites was for Michael Strahan this past year for his birthday. He wrote a book and I put that on it as well as his football helmet. I got to put everything he has accomplished onto one cake, so that was pretty cool."
So what's next for the Fan Cave?
"I keep joking, but I really [want it] to happen: I want to put a slab out back and put a double-wide and make it my Giants house," Banks said. "I think that's probably the best thing I can do because my Giants are obviously No. 1 to me."