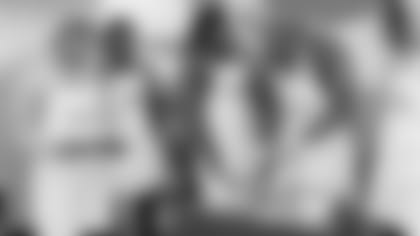 TURKEY TIME: GIANTS' PLAYERS GIVE BACK FOR THANKSGIVING
BY MATT COHEN
The New York Giants are in the middle of their 2017 season, but they've been pretty busy off the field making sure everyone has a Happy Thanksgiving holiday.
Giants players have been taking off the pads and stepping into the community to volunteer and give back to those in need. Recent visits include a trip to Eva's Community Kitchen, Food Bank For New York City and Community Food Bank of New Jersey. In addition, the Giants hosted a food drive with Stop & Shop at the most recent home game against the Kansas City Chiefs. All proceeds went to the Food Bank for New York City.
Check out all the recent community visits!
Community Food Bank of New Jersey
Community Food Bank of New Jersey is the largest anti-poverty organization in New Jersey, helping feed the one million hungry people in the state, of which 300,000 are children. Giants players Aldrick Rosas, Ross Cockrell, Adam Bisnowaty, Brett Jones, Chad Wheeler, Josh Banks, Geno Smith and Jerell Adams helped unload 1,500 turkeys, which were all donated by Stop & Shop.
Food Bank For New York City
Food Bank For New York City is the city's major hunger-relief organization working to end hunger throughout the five boroughs. Nearly one in five New Yorkers relies on Food Bank for food and other resources. Giants players came by to serve dinner in what's become an annual visit. Defensive tackle Jay Bromley proved to be quite an adept turkey carver.
Feeding the hungry in Paterson, New Jersey since 1982, Eva's Community Kitchen serves breakfast and lunch for up to 400 people a day and is open 365 days a year. Guests dining in the Community Kitchen are seated at tables and served with dignity and respect. Giants rookies, including Davis Webb, Shane Smith, Adam Bisnowaty and more stopped by to volunteer in the kitchen for the meal service and provide lunch to the guests.
The Giants volunteer at Community Food Bank of New Jersey, Eva's Village and Food Bank For New York City.