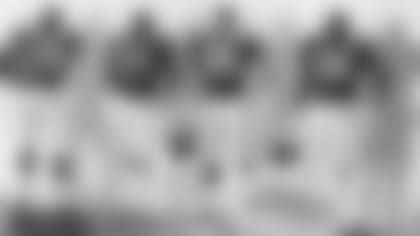 ULTIMATE GIANTS FAN CAVE BORDERS EAGLES COUNTRY
BY MATT COHEN
There's an invisible line that cuts through the state of New Jersey. No one's quite sure of its exact location, but most agree it's right along the I-95 corridor. North of the line is Giants country. South of the line is Eagles territory.
Straddling this invisible boundary is Jerry Foley of Hightstown, New Jersey. A lifelong Giants fan, Foley has transformed his house into the ultimate Big Blue fan cave. This even includes his garage, which features enough Giants memorabilia to ward off any NFC East rival intruders.
"I try to make it as inviting as possible to Giants fans and as intimidating as impossible to Eagles and Cowboys fans," Foley says. "I wanted to make this entrance fun for people who walked in and try to get you ready, like a pregame for the fan cave."
As one descends into Foley's basement, the amount of Giants memorabilia is overwhelming. Autographed pictures, helmets and framed jerseys cover every inch of his fan cave. Despite the sheer volume of his collection, Foley isn't interested in quantity over quality. He proves it with the admission that every player featured in his fan cave is either in the Pro Football Hall of Fame, in the Giants Ring of Honor, or has won a Super Bowl.
"It took me my whole life to accumulate." Foley says. "My parents would buy me stuff when I was a kid and a lot of this stuff is just meeting these guys. I met Jessie Armstead on a few occasions, I'm a huge fan of his."
Now a father of three, Foley has been a Giants season ticket holder for close to two decades. How he was able to get those tickets is a story in itself. And it's yet another item that hangs on his wall.
"Back in 1999, I wrote a letter to Wellington Mara that I was a huge fan and asked what I could do to get season tickets," Foley said. "He basically wrote me back that the tickets are yours. A very cool item to have. Wellington Mara is a class act, and John Mara is a chip off the old block."
From Y.A. Tittle to Lawrence Taylor to Eli Manning, Foley has every inch of Giants history covered. However, his most prized piece has nothing to do with football at all.
"My most prized piece is an autograph of Jack Lummus, who died in World War II," Foley said of the Medal of Honor recipient and former Giants player. "Having that autographed by him goes beyond football."
Want more Giants LifeStyle? Click here