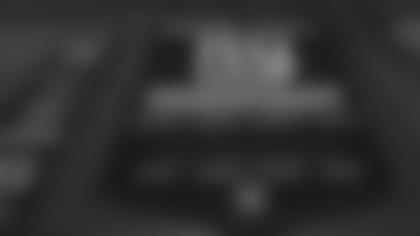 ULTIMATE GIANTS FAN CAVE DEEP IN THE HEART OF TEXAS
BY MATT COHEN
Jay Angelino says he can handle anything. When you're a Dallas police officer and a New York Giants fan living in Texas, you have to be as tough as they come.
Angelino, 50, has lived in Plano, Texas (about 20 miles north of Dallas) for 25 years. He's bled Big Blue for even longer than that, going back almost forty years. So how did someone living in Cowboys territory become such a die-hard Giants fan?
"When I was a young kid, all of a sudden I was watching Lawrence Taylor," Angelino explains. "The way you saw him get a guy. The quarterback would take two steps to the right, and he'd get him from the left. He was that quick. He was unbelievable. That defense with Carl Banks, guys like Pepper Johnson later on and Harry Carson. Just to see a defense like that was unbelievable and ever since then, I've been a Giants fan."
One look inside Angelino's Giants fan cave, and there's no questioning where his loyalty lies. The entire room is decked out in Big Blue swag, from autographed jerseys, to seats from the old stadium to as many framed pictures as the father of three could fit.
"The first year I came here I went to the Giants vs. Cowboys game by myself," Angelino recalls. "I was decked out head to toe - socks, hat, everything. I had my chair in the parking lot and people were yelling and screaming at me. Even now it's funny. When we play the Cowboys and we beat them, I don't say anything to any of my Cowboys friends. If they beat us, my phone will light up with like 900 messages. I tell people all the time, if the Giants win only two games a year, let it be the Cowboys twice."
Angelino's oldest brother grew up a Green Bay Packers fan. He has a younger brother who used to be a Buffalo Bills fan, but now roots for Big Blue. The two brothers even went to Super Bowl XLII together, and sat in the end zone right where Plaxico Burress caught the game-winning touchdown.
And yes, Angelino even has a brother that's a Cowboys fan.
"I hate to say it, but I do have one brother who's a Dallas Cowboys fan," Angelino laughs. "I try not to talk to him about that, but he's a Cowboys fan, it's true."
Want more Giants LifeStyle? Click here