If you want proof that Giants Pride is truly everywhere, Charles David is the man to ask.
That's because David, 37, who has lived in seven different states, has seen it from coast to coast.
I can see a Giants fan from far away. Even if it's a little 'NY' on a hat, it's a camaraderie that you can't find anywhere. Whether it's been in New York, South Carolina, North Carolina, Georgia, Texas, New Mexico, Colorado, all the states I've lived in, we all act the same. And we all treat each other as if we were back in New York. - Charles David
For the past eight years, home has been Denver, Colorado. The reason David is so well-traveled has to do with his job as a recruiter in the Army National Guard, a position he's held the past nine years. But his military service started even earlier. David joined the Marine Corps in 1998 right out of high school and was stationed everywhere from Camp Lejeune (North Carolina) to Brooklyn to Paris Island (South Carolina). Five years after leaving the Corps, David jumped back in and joined the Army National Guard.
Before his career as a recruiter took him across the country, David hailed from the working-class neighborhood of Bushwick in Brooklyn, New York. It was there, in a family full of Jets fans, that a teenage David decided his heart was with Big Blue and not Gang Green.
"It just never really sat," David recalled. "As I got into my pre-teens, my mid-teens, I started learning an immense amount of football. I started learning who the Giants were, who the Jets were. They might play in the same stadium. They might practice at the same place, but they're two totally different teams. And I started learning the Giants were the legacy. The Giants were New York's team. And once I learned about the New York Football Giants, I just adopted that and became a part of that family."
Two decades later, David is in the process of building a family of his own. He's been married to his wife Emma for just over a year. David actually proposed at The Tavern at Platt Park, a Giants fan bar that's home to the Big Blue Denver Crew, a group of devoted Giants fans in Denver (they have their own website and Facebook group with 800 members).
"Being in the Mile High City, being 8,000 miles from New York, the Big Blue Denver Crew is the biggest feeling of home that we can get up here," David said. "It's filled with people from New York, New Jersey, Connecticut, and the Tri-State area. To hear their accents, to hear them yelling just like how you would yell. And it's good to find a place where you can yell and people don't think you're crazy. So, it's loud. We bring it 100 percent every single week and it's a really good feeling of home."
The couple's first "little Giant" is on the way; Emma is expecting in February. David also has a 15-year-old daughter and a four-year-old daughter.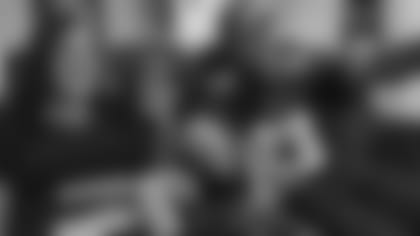 David, his wife Emma, and his four-year-old daughter cheer on Big Blue in the "fam cave".
When he's not working in the Army National Guard, David is busy preparing to get his master's degree from the University of Colorado in sports marketing. You can also find David at home in his one-of-a-kind Giants fan cave. Or as he likes to call it, the "fam cave". From a custom foosball table to signed memorabilia to framed jerseys, David has Giants Pride from wall to wall.
"It's important for us to incorporate the family in a lot of the activities that go on down here," David said. "So I play a lot with my four-year-old daughter, and incorporate the Giants into her a little bit as she learns what Big Blue is all about. It's fun to celebrate with a supportive wife and start teaching your kids about what a touchdown is and what an interception is."
David and his wife have a pact to attend one Giants road game every season. This year, that game is the Week 10 matchup in San Francisco. Fortunately, the Giants visit the Mile High City in Week 6, meaning that the couple will be able to attend two Giants games in 2017.
"The Broncos fans, they do welcome competition," David said. "They like trash talking and it definitely is challenging. But, every game day, I still fly my New York flag. Every game day, I still bring it 100 percent and I still rock my blue jersey for the Giants every time. In the middle of Denver, Colorado, where the Broncos are number one, I will always wear this jersey."