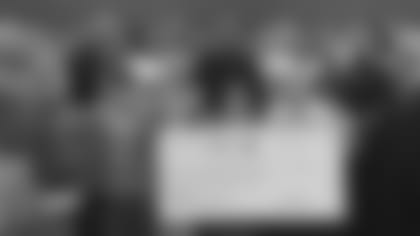 VICTOR CRUZ VISITS TRI-STATE AREA "FOOTBALL TOWN"
BY MATT COHEN
New York Giants wide receiver Victor Cruz has never forgotten where he's came from. A Super Bowl champion with Big Blue, Cruz often talks about representing his hometown of Paterson, New Jersey, where he grew up and excelled as a football star at Paterson Catholic High School.
In the spirit of recognizing great football towns, Chase, USA Football and the Giants teamed up last month to honor Brick Township High School in New Jersey as the Tri-State area's winning "Football Town" amid nearly four dozen nominations and online voting.
For winning its Football Town recognition, Brick Township High School received a $5,000 equipment grant. The Dragons were one of four finalists towns, and won the honor after a two-week online voting period.
There's plenty of great football tradition at Brick. The school has won 14 state championships (dating back to 1958). Its town and team motto is - "A Town of Tradition & Pride." That pride was on display when in the aftermath of Hurricane Sandy, the football team rallied to support its community and helped clean out homes damaged by flooding. They brought water and food to families who were displaced from their homes.
Want more Giants LifeStyle? Click here