PLAYLISTS AND FOOTBALL
BY MATT COHEN
Rookie tight end Will Tye says he'll listen to the same 5-10 songs over and over again.
At the top of his playlist are: "Been On My Grind" by DeJ Loaf, "Jumpman" by Drake feat. Future, "London Roads" by Lil Wayne, "Live from the Gutter" by Drake feat. Future and "Dedicated" by The Game feat. Future and Sonyae.
It's the last track, "Dedicated," that's particularly fitting in Tye's case.
Without it, Tye never would have made it this summer as an undrafted free agent onto the Giants' practice squad, or as the first player from Stony Brook University to make it onto an active NFL roster.
"It's really gratifying. I still don't believe it, yet," said Tye. "Every day I come here to work and I'm like, is that Eli [Manning] next to me? Maybe this isn't work. It feels really good to be a part of something special."
The Middletown, Connecticut, native spent two years playing for the Seawolves under head coach Chuck Priore, catching 79 passes for 1,015 yards and nine touchdowns. Now, Tye is making an impact with the Giants, catching four passes in the Giants' win over San Francisco, just his second game on the active roster.
"It means a lot. It puts Stony Brook on the map that you can come from there and do anything, anything at all," said Tye.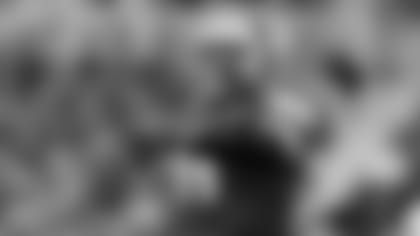 Tye, like most professional football players, relies on music to pump himself up and focus before putting the pads on. Before the Giants Week 4 game in Buffalo, it was just practice. Now that he's catching Sunday passes from Eli Manning, Tye says music has become an even bigger part of his pregame ritual.
"I can feel the beat. I feel like I'm in the zone. I feel like the song is talking specifically to me and I'm one with the song. It gets me ready to go," said Tye.
One artist you won't see Tye listening to, on game day or any other day, is Jay Z.
"It's a good thing nobody heard me say that, but he's just not really for me," Tye laughed.
Tye has six catches for 70 yards so far this season. With just a handful of games under his belt, the 23-year-old hasn't scored his first NFL touchdown – yet.
Still, being the first Stony Brook alum in the NFL should come with some perks, at least in Tye's mind. The tight end has his sights set on the stadium he used to call home, Kenneth P. LaValle Stadium, on the Stony Brook University campus.
"ASAP," Tye joked. "I'm going to call coach [Priore] today and tell him he needs to get this thing going and make Will Tye Stadium happen."
"Been On My Grind" by DeJ Loaf
"Jumpman" by Drake feat. Future
"London Roads" by Lil Wayne
"Live from the Gutter" by Drake feat. Future
"Dedicated" by The Game feat. Future and Sonyae
Want more Giants LifeStyle? Click here