From 1982-92, Long Island native Jan Mead served in the Army as a Specialist E-4, first as a radio operator and later in army supply and as a weapons technician.
Even though nine years had passed since leaving the Army, Mead didn't think twice about reenlisting after the September 11th terrorist attacks.
"When that happened, it hurt me a lot," Mead said. "I didn't want to see that. I'm from the area. I decided to go back in the Army and go back in and fight for my country. I was 42-years-old. I was physically able. I was 130 pounds. I was in good shape. I lifted weights every day. I wound up going over, April 1st, 2004."
Now in the Army National Guard, Mead's fist stop overseas was a small Iraqi province called Diyala, and the little town of Tuz Khurmatu, about 180 miles north of Baghdad. Serving at Forward Operating Base Bernstein, Mead went on missions to deliver food, knock down doors and deliver prisoners. He also saw his fair share of combat and a few firefights.
I wanted to fight for my country because I thought it was wrong what happened. To come over and attack the United States of America, I was upset about it. It was my honor to go back in. - Jan Mead
Mead's second stint in the Army was cut short, however, and in the process, he almost lost his life. On February 17th, 2005, Mead was badly injured when he fell off the top of an airplane hangar.
"We were building the supply room for our weapons," Mead recalled. "I was painting it and stuff like that. Then all of a sudden, I slipped and fell. I landed on a steel box. I fractured my lower back between the L-5 and the S-1. When I fell, it damaged my heart. My heart went flat for eight seconds and I was considered dead. They brought me back to life."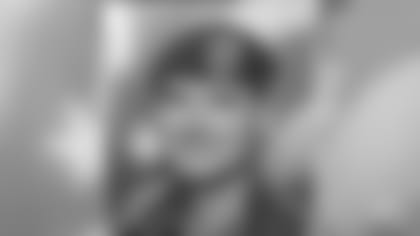 A photograph of Jan during his time as a Specialist E-4 in the United States Army.
Mead spent the next eight months recovering in Iraq. He had to get a pacemaker. In addition to his back injuries and other broken bones, Mead severely damaged both his kneecaps. Ultimately, he will need both knees replaced.
Mead finally returned to the states in October of 2005 and settled in Florida, where he had lived off and on for years since first being stationed in Daytona Beach back in the 80s. He struggled physically and mentally. Doctors told him he would never be able to walk again.
Struggling to get his life back in order, Mead's source of inspiration came from the unlikeliest of places.
"I thought about the Giants," Mead admitted. "I thought about how the players get motivated when they step out on the field. I've been a Giants fan my whole life. I can remember watching Lawrence Taylor on TV and going to games as a kid every week with my father. I thought about the team, the players, Giants Pride and how I get motivated just watching them play. The team is an inspiration to me. That's how I got through it."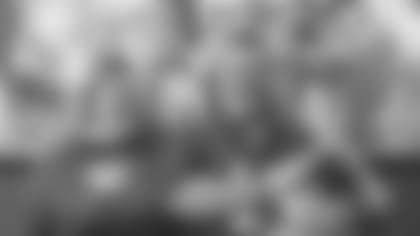 Jan Mead with his wife Sheena and their 3-year-old son Kyle during a trip to Giants Camp this summer.
Now 54, Mead has settled in Ormond Beach, Florida with his wife Sheena and their 3-year-old son Kyle. He's in better shape now than he was, but still has a great deal of health issues. He's physically unable to work, and so he lives on his pension and his Supplemental Security Income (SSI). Prior to that, Mead spent four years as a nurse working for Mountain Home Veterans Affairs Healthcare System, a branch of the U.S. Department of Veterans Affairs that provides care to military vets.
Mead gets the most joy these days spending time with his family and living life as a die-hard Giants fan.
"I've been a Giants fan my whole life," Mead said. "My favorite player was Jason Sehorn. When he caught that crazy interception against the Eagles, that was one of my favorite plays of all time. Back in the day, I used to watch L.T. sack the quarterback all the time. He was crazy, man; I loved him. Michael Strahan was great, too. I loved him sacking the quarterback."
From the time he was in the Army, Mead has always been good with his hands. Unable to walk for long periods of time and being a lifelong Giants fan, Mead had his eureka moment.
"I bought a scooter for $600 and turned it into a Giants scooter," Mead said. "I sanded down the whole body and I got primer paint and I got metallic blue paint and I started painting it. I said I'm going to do this for the Giants, the Giants fans and all the Giants players and whoever else likes it. I'm going to drive it around town and I'm going to be proud driving that thing."
After spending several weeks turning an ordinary scooter into the ultimate Giants-mobile, Mead's new method of transportation has all the bells and whistles. The American Flag. Decals of the Giants four Super Bowl victories. Even an Eli Manning bobble head.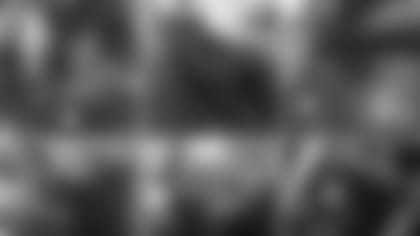 Jan Mead customized every inch of his Giants scooter, which he spent weeks putting together.
Mead says it's his way of honoring his favorite team.
"I'm a super fan, really; I have a Giants tattoo on my arm," Mead said. "I did it for any Giants fan that will enjoy it. If I have to ride around in a scooter, it's going to be a Giants scooter."
As for his 10-plus years in the Army, even though it almost cost him his life and has led to health issue after health issue, Mead would do it all over again.
"It was worth it, fighting for my country," Mead said. "It really was. This is America, home of the free man. There's no place like it anywhere else in the world. I would protect it 100 percent again. I'd go back and do it all over again in the end. Even though my life has been cut short I'd still do it."