Eddie in New Jersey: What should the Giants prioritize in this year's NFL draft?
John Schmeelk: I thought it would be fun to slip a draft question in here in the midst of free agency given how the contingent agreements the team has made with free agents might change its draft approach. Dave Gettleman uses free agency to fill holes on the roster so he can select the best player available in the draft.
He has done that as best he could during this free agency period. Every starting position on both sides of the ball has players that have significant starting experience ready to be on the field for the first snap on September 13. It doesn't mean there aren't positions where the team can use younger players with a lot of talent.
Cam Fleming has 26 career starts but has primarily been a backup. He and Nick Gates, based on their career usage, would seem to be the two main competitors for the starting right tackle spot. Nate Solder, the incumbent at left tackle, will turn 32 in April. Adding a talented young tackle who can man either spot for a decade or more is likely to be a consideration. There could be as many as four offensive tackles selected in the top 12 of the draft (Mekhi Becton, Jedrick Wills, Andrew Thomas and Tristan Wirfs).
Every defense needs players who can consistently get to the quarterback. The Giants don't have anyone with a resume that has proven they are a consistent pass rush threat every down. The Giants will have their eyes open for edge rushers in the draft, but if analysts are right, it is not a great draft class at that position.
NFL offenses feature schemes that create mismatches and players who possess rare combinations of size and speed to win in the middle of the field. Every defense needs an athletic coverage linebacker to run sideline to sideline and play man to man defense on athletic running backs and tight ends. Isaiah Simmons, Patrick Queen and Kenneth Murray are all players who fit this profile and could be first round picks.
With offenses using more and more wide receivers on the field at the same time, defenses can never have enough cornerbacks. Even though the Giants agreed to terms with James Bradberry in free agency, they could use another cornerback, especially one who can play in the slot. Jeffrey Okudah is expected to be the first cornerback taken in the draft, and there could multiple worthy cornerbacks still available at the top of the second round.
Mathy in Virginia: Can the Giants restructure more of their current larger contracts to free up more cap space to sign more free agents?
John Schmeelk: This is a question that is always asked but it is easier said than done and very seldom is it the prudent thing to do. I will not address any specific players since the Giants do not release the details of player contracts. There are two general ways to restructure contracts: a true restructure by converting money in the contract or asking the player to take a pay cut.
I'll cover the pay cut part of this first because it is cut and dry. The important word is that the team ASKS a player to take a pay cut. The player can and will often say no. Then what? An old adage is that you should never ask a player to take a pay cut unless you are ready to release them outright, otherwise what motivation is there for the player to acquiesce? So push this option aside because it is very rare and extremely unlikely. It's easy to say for a fan but much more difficult in practice.
As for a normal restructure, it is important for fans to know that money doesn't simply disappear when a contract is restructured. It is often a situation where the can is kicked down the road and the money becomes a future salary cap liability that is often guaranteed. In other words, the team is still going to have to pay that money, it is simply spread out differently across the contract and often reduces flexibility in future seasons.
Sometimes a restructure of that nature makes sense if the player is someone the organization expects will be a part of the team for the duration of the contract and money is desperately needed in the current year. Often, it does not and can result in dead money on the salary cap in future seasons if that player is released before his contract expires.
In other words, you are robbing Peter to pay Paul. Proceed with caution at all times.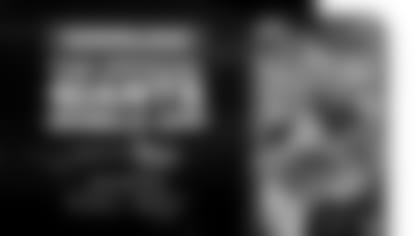 Giants App
Download the Giants' official app for iPhone, iPad and Android devices