Luke in New York: It's no secret that the defense's raised level of play from last year has made it harder to stay patient with Daniel Jones' development as he learns the new offense. Obviously, you would rather have an incompletion as opposed to a sack, but do you think it may be wiser for the coaching staff to stress to Daniel to take sacks as opposed to trying to throw the ball out of bounds?
John Schmeelk: It might be harder to have patience, but a quarterback's development is not linked to how well a team's defense is playing. You will also see Jones begin to play more consistently when his offensive line begins to perform better. It is important to learn as much about Jones this year as possible and you do that by playing him. The coaching staff is teaching him exactly what you describe. The preference is to get rid of the ball quickly before the rush gets there, but once the quarterback is in the grasp of the defense it is better to take a sack than to force a throw.
Tyler in Georgia: When I watch Daniel Jones play, there is a lot to like. The biggest knock on him that I see is that when it is time to clutch up, he does too much and turns over the ball. How much better would this team be if every time we were in one of these situations, he accepted the play was dead? I like that he tries to put the team on his back, but it almost always results in a turnover.
John Schmeelk: He has also made a lot of big plays in those types of situations (like the throw to Golden Tate vs. the Bucs), but you are right about convincing him to concede on some plays. Jason Garrett was asked about this earlier in the week.
"Quarterbacks who are worth their salt have a playmaking instinct in them. They want the ball in their hands and they want to be the guy who's guiding the offense but making an impact on what goes on on the field," Garrett said. "I would say every quarterback I've been around who's been a really good player has that same instinct. Over time, you learn through experience what plays you simply have to fold on, and you have to get the ball out of your hand and live for another day. Whether it's punting on the drive or just simply going to second and 10, I think that's an important thing to understand. The more situations you're in, if you approach them the right way, you'll learn from those experiences. Daniel continued to do that. Most guys I've been around have gone through that very similar process."
Charles in Maryland: How does Binjimen Victor look during practice and will he have a chance to take the field this year?
John Schmeelk: Media is not allowed access to practice during the season, except during stretching and individual drills, so the coaches are the only people who know the answer.
Michael in New Jersey: The Giants need help in the receiving corps. Where are all the UDFA that were with the team during camp? I know Alex Bachman was brought in, but what about Binjimen Victor, Austin Mack and others? They have at least virtual knowledge of the playbook.
John Schmeelk: Austin Mack is on the active roster as the team's fourth wide receiver. Derrick Dillon, Bachman, Victor and Corey Coleman are on the practice squad. Bachman was brought up from the practice squad for the Oct. 22 game against the Eagles. If the coaches thought they were better options, they would be on the active roster.
Richard in Florida: Will Xavier McKinney be eligible to be removed from IR and play at all this season?
John Schmeelk: The Giants have not provided a schedule for McKinney, but a realistic time to start thinking about his potential return would be after the bye week.
Mike in Pennsylvania: Is Sandro Platzgummer going to get a chance at any playing time this season?
John Schmeelk: Platzgummer is part of the NFL's international program and ineligible to be activated to the 53 this season, so he must remain a developmental player.
Dwayne in South Carolina: Do you think it is a good idea to try Andrew Thomas on the right side and put Matt Peart on the left, being that Thomas is given up so much pressure? I think Thomas would succeed on the right side and Peart is more physical.
John Schmeelk: I do not. Matt Peart was a right tackle in his final years in college, while Thomas played left tackle. He is not a more physical player than Thomas, who has been good in the run game this year. One of the common refrains about Peart in the draft was that he needed to add a lot of strength in the NFL weight room, which he continues to do.
There is still an impression out there that right tackle is easier to play than left tackle in the NFL, but it isn't true. Often times, the other team's best pass rusher is lined up over right tackle. I expect Thomas to stay at left tackle and Peart to work his way in more on the right side as the season goes along.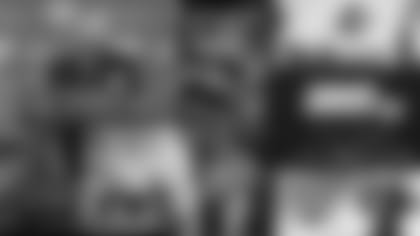 Giants TV Streaming App
Watch exclusive videos with the GiantsTV app for Apple TV, Roku, and Amazon Fire TV. Also available in the Giants mobile app