Lieutenant Lenora Moody always knew she wanted to make a difference, but her impact remained to be seen. Now a 32-year NYPD veteran, Moody's role in her community is both uncharted and unparalleled.
As part of the NYPD's Neighborhood Coordination School Initiative (NCSI), Lt. Moody is responsible for the development and success of the Far Rockaway Giants (formerly Far Rockaway Colts) and the Harlem Giants. Beyond their immediate impact, the programs are sparking foundational change in the New York City communities that they serve. Leveraging the power of mentorship, education and physical activity, the two programs have yielded measurable impact for at-risk youth.
As such, the New York Giants are proud to name Lt. Moody as the inaugural recipient of the league's Inspire Change Changemaker Award. The accolade recognizes individuals who are making a difference in their communities through social justice work, either individually or as part of a non-profit organization, across each of the NFL's 32 club markets. Lt. Moody will be acknowledged at the Week 17 Inspire Change game, where she will receive a $10,000 donation from the NFL Foundation to advance the scope of her social justice impact.
Lt. Moody first launched the Far Rockaway Colts in 2018 as part of a partnership between the NYPD, the NYC Police Foundation and Department of Education. Lt. Moody saw the community dealing with violence, and she felt an unwavering call to action to break a cycle of gang affiliation and pave new opportunities for the youth.
Inspired by a pilot program on the West Coast, Lt. Moody purchased a flight to California to learn about the Watts Rams – facilitated by her LAPD counterparts in partnership with the Los Angeles Rams. The program took steps towards healing a "historically strained relationship" between the police and the community by making a conscious effort to substitute real people in place of a daunting police presence. Officers sustained relationships with the youth through repetitive interactions that spanned sports and academic programs.
Lt. Moody brought the concept back with her to the East Coast, and the Far Rockaway Colts were born.
Today, the program enlists a unit of 17 officers to provide over 100 boys with opportunities for mentorship, academic support and flag football. Officers accompany participants from school each day for various programming.
"I want (all kids) to have a safe place to go from the hours of 3 o'clock to 7 o'clock or 8 o'clock," Lt. Moody said about her intention for the program.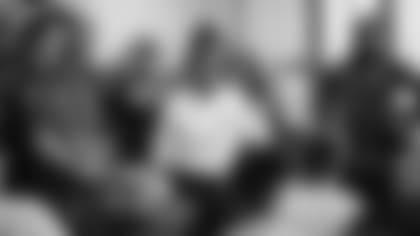 At the pandemic's onset, the Far Rockaway Colts program was at the forefront of discussions about budget cuts, but Lt. Moody's relentless pursuit stood strong.
Lt. Moody was instrumental in establishing a partnership with the New York Giants that spared the program, and quantifiable change persisted. The re-named Far Rockaway Giants helped to increase school attendance from 60 percent to 95 percent.
In bringing in new role models like wide receiver Darius Slayton, quarterback Daniel Jones, outside linebacker Oshane Ximines, safety Julian Love, placekicker Graham Gano and other recognizable athletes, Lt. Moody also propelled conversations about the geographical scope of the program.
With a desire to move into all five boroughs of New York, Lt. Moody took a monumental step toward that feat. The Harlem Giants launched in Fall 2022, reflecting years of hard work, dedication and proven results. In just a few short months, young boys in Harlem have formed relationships with Lt. Moody's team of officers and Giants players.
Lt. Moody wholeheartedly believes in the impact of her programing and is personally invested in its success. She frequently references both programs as a "big extended family."
Lt. Moody's humility is one of her most admirable attributes, and she spoke candidly when informed of her recognition.
"I have achieved many successes throughout my career, but none better than to be named The New York Giants' Inspire Change Changemaker," Lt. Moody said. "It is indeed the pinnacle of my career."
She added, "It means the world. We have been building this program for over four years – a program that brings the police community together with a community that traditionally has mistrust in their police. But we come together to build a better tomorrow for our kids – a tomorrow that focuses on education, safety, mentorship and the possibility of children aspiring to reach their fullest potential in life."