Alejandrina in Virginia: What's the overall outlook for the remainder of the season?
John Schmeelk: I like to look at the Giants' opponents and how they play to get a better idea of how the matchups are going to look from a style perspective. The next two weeks feature excellent defenses in the 49ers and the Rams. Despite injuries, the 49ers are still a very fundamentally sound and physical unit. The Rams have talent throughout their defensive unit, and Aaron Donald might be the best defensive player in football. Washington, the Giants' opponent in Weeks 6 and 9, also features an excellent defensive front.
The Rams, Cowboys, Eagles, and Bucs (opponents in Weeks 4, 5, 7, 8, and 10) feature offenses that will test the Giants' defense, their ability to prevent big plays and stay disciplined.
After the bye week, the Giants will face some of the most explosive and dynamic quarterbacks in the league; Russell Wilson, Kyler Murray, Lamar Jackson and Dak Prescott. They'll also get to play two young developing passers in Baker Mayfield and Joe Burrow.
In other words, it doesn't get any easier.
Milton in Maryland: Why aren't the Giants playing man [defense]?
John Schmeelk: Head coach Joe Judge and his defensive coordinator Patrick Graham have been very clear since they arrived that the Giants would craft their defensive strategy around the talent on the roster. Based on his history, Graham would prefer to play man-to-man defense, but he concluded the best chance the team had to win was to play zone early in the season. It is also probably the reason they are only 19th of 32 teams in blitz rate.
The strategy has worked. The Giants are ranked second in the league in passing yards allowed per game, and 10th in yards allowed per pass play. They rank fourth overall in yards allowed per game. The Bears scored only 17 points and were shut out in the second half.
Rick in Florida: Why don't we see more multiple- or two-back formations to confuse or cause the defense to hesitate. Maybe they could try using split backs?
John Schmeelk: Eli Penny has eight offensive snaps so far this season as a fullback. I'm going to interpret your question by assuming you mean playing Saquon Barkley alongside someone like Dion Lewis. You don't see it more because it does not create an advantage. Since neither player is a blocker or fullback, the defense would likely stick with their sub-packages on defense, which features and extra defensive back. It would mean a cornerback to cover the second back out of the backfield, which is not an advantageous matchup for the Giants' offense.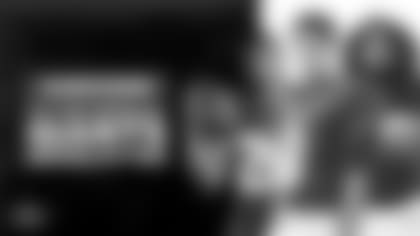 Sign up for the Giants Newsletter
Breaking news and exclusive content direct to your inbox