ATLANTA – Let's get this out of the way at the start: Saquon Barkley is a man of many talents, but he has no plans to turn his brief stint as a defensive end in the Pro Bowl into a larger role in the future.
"Not at all," said Barkley, who ran for 10 yards on just two carries in the NFC's 26-7 loss last Sunday. "I was like, 'Coach, let me pass rush.' He said you can on third down. Me and Zeke (Dallas' Ezekiel Elliott) went out there. I got a pressure. I could've sacked him, but I wanted to be smart and not dive at (Deshaun) Watson's legs or anything like that. It was a lot of fun."
And certainly a unique experience. The Giants will be very happy to keep Barkley at running back, where he established himself as one of the NFL's best players in a sensational rookie season. Barkley led the NFL with 2,028 yards from scrimmage, and set franchise rookie records for both rushing yards (1,307) and receptions (91, tying Odell Beckham, Jr.).
But to Barkley, everything he accomplished in 2018 is already ancient history.
"I am more just looking ahead," Barkley said. "Obviously, you see more and more with stuff on Twitter, so you appreciate it. Now I am just thinking how can I improve on that and build on that. How can I help translate that into more wins for the team? All of those things were great, but now I just have to elevate my game to another level. (Three-time All-Pro cornerback) Richard Sherman asked me what my goals were and I told him I wanted to elevate my game. He was saying that you should try and elevate everyone else at the same time. That stuck with me and made so much sense. I want to grow more as a leader. When you are there, it is not just about elevating yourself. Obviously, you want to elevate your game and take it to another level, but you want to elevate the people around you and challenge them at the same time. That builds a great team and chemistry to win games."
Barkley is here at the site of Sunday's Super Bowl LIII to make numerous appearances. Tomorrow, he will attend NFL Honors and learn if he wins the Rookie of the Year Award. On Thursday, he was named the Pepsi NFL Rookie of the Year, an unofficial award that is determined by a fan vote on NFL.com.
The Walter Payton Man of the Year recipient will also be announced tomorrow. Michael Thomas is the Giants' nominee. The award recognizes an NFL player for outstanding community service activities off the field, as well as excellence on the field. Barkley wants to win the award one day, and has quickly immersed himself in community and charitable activities.
This morning, he helped feed homeless men and women at Crossroads Community Ministries on behalf of Campbell's Soup, which is donating 100,000 bowls of soup today – and many more throughout the year - to Missions for Ministry, a local organization committed to giving back to those in need of food and shelter.
"I want to continue to get more involved," Barkley said. "It is hard your first year because you are just trying to figure everything out. Now I have a gist of how an NFL year is and what it is about. I want to be more active with stuff like this. Giving back and visiting schools, visiting people and starting up my own foundation. I want to win the Rookie of the Year award. I want to win a ring and an MVP, but I also want to win the Man of the Year one day."
Barkley's rapid and substantial success in the nation's largest media market has already landed him several lucrative endorsements (Nike, Visa, Dunkin Donuts). But just as he wants to do on the field, Barkley intends to make a larger impact off the field.
"I don't want to just be out here doing this or that," he said. "I want to spend some time with people. To be able to be set up with Feed the Homeless and with Campbell's giving out 100,000 bowls, it is truly amazing. To be able to be partnered with them, that is what you want. You want to be with people who are real, giving back to people and impacting people. That is what I value and I want to continue to do that throughout my career. I am happy and thankful to be with Campbell's and to be able to give back to the homeless this week.
"Campbell's and this homeless (event) is the best thing I am doing this week. That is what it is all about, giving back and having an impact. That is who you want to work with. You want to partner yourself with people like that. I am looking forward to that."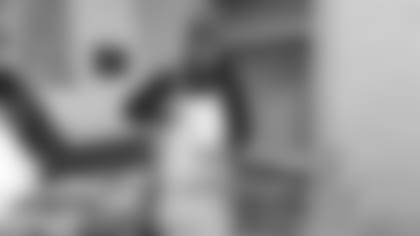 Spending time here this week has also provided Barkley with a different kind of incentive. He is observing and soaking in the pervasive hype of Super Bowl week for the first time. And it has made him more determined to play in the game.
"It gets you motivated," he said. "Watching the playoffs, you see teams that you played against or you see teams that are having a lot of success. You can envision yourself being there. That is the goal. You work hard in the offseason and you push yourself and your teammates to get to this point. Obviously, it is a long road and it is not going to be easy. We still have a lot of figuring out to do, but that is what it takes. Everyone wants to be in this moment and at this game."
Barkley might well have a moment of his own tomorrow during NFL Honors. His primary competition for the Rookie of the Year Award is believed to be Cleveland quarterback Baker Mayfield.
"I am just going in there trying to have a good time," Barkley said. "It will be a new experience for me. It will be my first award show. I get to do all the dressing up and walk the red carpet and have my mom and family there. It will just be cool being surrounded by a lot of talented players and familiar faces that I have seen, whether it be in combine training, hanging out or working out. It will be fun to be with them, and at the end of the day represent myself and the New York Giants, whether I win the award or not."
One fabulous year into his career, Barkley has become a player the Giants are thrilled to have, on and off the field.