The New York Giants have turned the page to Week 3.
After losing their first two games of the young season, Big Blue will host the Atlanta Falcons, also 0-2, on Sunday at MetLife Stadium. Coach Joe Judge addressed the media on Wednesday before his team began on-field preparations at practice.
Here is everything you need to know from what he said:
🔹 Judge started with his scouting report of the Falcons. He said he has a lot of respect for first-year head coach Arthur Smith "and how he puts his team together, how they approach the game. There's obviously a lot of influence from different places he's been." Smith was previously the offensive coordinator of the Tennessee Titans.
🔹 Judge, a former wide receivers coach in addition to special teams coordinator, said Calvin Ridley is as good as they come. "He's very savvy, runs great routes, has good hands, he's very quick going up the field, he has very good agility in open space to make you miss if you're not a good, sound tackler. Fundamentals in open space will be key against this guy."
🔹 Rookie tight end Kyle Pitts, the fourth overall draft pick this past April, stands out. "There's a reason they took this guy so high in the draft, a reason why people liked him coming out. You can talk about this guy being a big receiver, but this is a guy who's very capable of blocking and running their offense as a tight end. You see him in the last couple of games as the packages start to unfold and really develop with this guy."
🔹 Tight end Evan Engram was limited in practice on Wednesday as he continues to deal with a calf injury. "He's still progressing, moving in the right direction. We were hopeful early coming out of camp – obviously, we didn't put him on IR – we were hopeful to get him to this point."
🔹 Judge said Saquon Barkley's explosive run on Thursday night was a good sign. "I see him going out there every day, he practices hard, he plays with confidence. Obviously, there are some things coming off an injury like that that you've got to have certain stepping stones, but like I've said all along, when the medical team says he's greenlighted to go, we've got to go and start playing with him. He's done a good job preparing for us. he's done a good job in performance for us and we're going to keep on going with him."
🔹 On cleaning up mistakes, Judge said, "The message I always have to the team that I believe is until you get something off tape, teams are going to attack it."
🔹 Judge said cornerback Adoree' Jackson gives them flexibility within matchups. "It's not going to restrict us with anything we want to do with James [Bradberry]."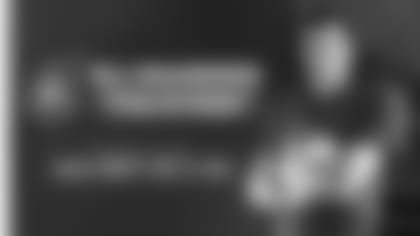 Limited Tickets Available for Eli Manning Ceremony
Limited tickets are available for Eli Manning's jersey retirement and Ring of Honor induction game