Most people would give up if they had to run in the cleats of Brandt Morgan and Devian Parker-Rogers, but not everyone has the Heart of a Giant.
Each year, the New York Giants, Hospital for Special Surgery, and USA Football present the Heart of a Giant Award to high school players who demonstrate a relentless work ethic and unmatched love for the game in the face of adversity.
As co-winners of last year's award, Morgan and Parker-Rogers recently helped kick off the upcoming football season at the 2022 Heart of a Giant Spring Clinic at the Quest Diagnostics Training Center. In addition to taking in the day of education and training, they spoke to the group of 40 coaches and captains from local high school football teams.
"You can think that you're at your worst, you can think that everything is over, but there's always a light at the end of the tunnel," Morgan said. "People told me I wouldn't play football again and I was crazy for even saying that, but now I'm back trying to be the starting quarterback."
"I am extremely thankful for the way football changed my life," Parker-Rogers said. "Without football and all the brothers I gained over the years, I wouldn't have become the high-achieving young man that I am today."
The program was part of Move Better Play Better, a new initiative by HSS that brings free injury-prevention resources to 50 high schools nationwide.
"The Giants and HSS have had an amazing relationship for 30-plus years now through all the Super Bowl victories, and it's because of the Giants' commitment to keeping their players safe," said Jimmy Russomano, HSS Injury Prevention Program Manager. "And what's really exciting about this Move Better Play Better campaign is that we now get to offer that same safety and health promotion high school athletes of any sport in the Tri-State Area."
"Many times in youth sports, those that are in most need of professional coaching and tools like the ones we offer [at the clinic] are the ones that don't get it," said Jimmy Russomano, HSS Injury Prevention Program Manager. "So, the fact that we can partner with the New York Giants and us here at HSS, we can see all the benefits the community can have from this type of programming."
The Heart of a Giant Award also comes with $10,000 equipment grants for their high school football programs, but that is neither the beginning nor end of the story for players like Morgan and Parker-Rogers.
Giants.com caught up with them to hear they journeys and how they are doing today:
Brandt Morgan, Jericho (N.Y.) High School
Morgan's life changed when he felt a click in his throat.
A sophomore at the time, he got out of the shower to see three golf ball-sized masses staring back at him in the mirror. Upon examination, it took the doctor two seconds to realize a biopsy must be taken. The results came back as Lymphoblastic Lymphoma, an aggressive and rare form of Non-Hodgkin Lymphoma.
"I had no clue what it was going to do to me," he said.
Diagnosed on November 23, 2020, Morgan began a grueling marathon of treatments, procedures, and unfortunate setbacks that kept him in the hospital for months on end. He developed neuropathy during his chemotherapy, causing him to lose feeling from the hips down. Instead of training for his varsity years, Morgan had to learn to walk again.
"I just couldn't feel what I was walking on," Morgan said. "They would take my toe and they'd tell me to close my eyes and tell them what direction they were pointing my toe – up, down or to the side. I just had no clue what they were doing. And that was pretty freaky for my mom especially, just having to witness everything because my mom is my rock through all this. So, I had to re-learn to walk and I had to put myself in the right mindset."
Morgan said he would wake up every hour with an understandable question: "Why me?" When he got past that stage, things started to improve.
"Eventually I had to get it through my head that this happened to me," he said. "I don't have a choice. All I have to do is just push and force myself to do what I can do. I have to forget about my friends right now and forget about what they're doing. They're doing their own thing. I can't think about what I'm missing out on. I just have to focus on getting my life back."
"He never, ever stopped fighting," his mother, Abby, said. "He had one mission. The one mission was to play football. He's just loved by everybody. He's that kid that everybody wants to help. When I saw him do his first step and his first run and his first jog and lift his first thing, he always says, 'Why are you crying, mom?' I'd say I'm crying because I'm so happy and I'm so proud of you. You walked today. You ran. You stepped. You did more today than you did yesterday. He never complained, no matter what went on."
Just as he started to return to normalcy, he fell back to rock bottom.
Before his final cycle of chemo, Morgan felt the worst pain of his life while his temperature jumped to 103 degrees. He was diagnosed with Listeria, an infection caused by his weakened immune system. He also suffered an appendicitis and was told he had to spend another month in the hospital.
Morgan offered a compromise.
"I told them there is zero percent chance I'm staying in the hospital again," he said. "The only way I will stay in the hospital is if you guys let me set up my room as a gym and let me get ready for football season."
So, he got to remodeling. His hospital room came to include two TRX systems, weights, a yoga matt, and whatever else he could get his hands on. With the IV drip attached to the bottle cap-sized port in his chest, he would work on his upper body. When it was out, he would work his legs.
He repeated the cycle until it was time to get back on the football field.
"I never realized how off I was until the first practice when we were running through cones and each cone we're running through I probably fell over," Morgan said. "My balance was just completely off."
All the while, he never wanted special treatment from his coaches.
"The fact that I was showing up to every single practice when I could barely even walk and I was doing all these drills, I said, 'You don't treat me any different. I don't care what I've been through. I don't care what I look like right now. This is what's going to be me back. I know I'm not the No. 1 guy anymore, but I need it [to be] you scream at one person, you scream at me the same way. I don't want to be treated any differently."
Morgan didn't do all that work to practice, though. He had his eyes set on something bigger.
With his team up by a touchdown at home with 1:30 left, he got the call to go in his first game since feeling those lumps in his throat.
"I'm just walking on the field, and I just missed it so much," he said. "Every single thing I worked for in the hospital, every single fight I went through – and that I was still going through as I was walking on the field; this game was three days after I had a spinal tap – I wasn't thinking about anything besides getting back on the field."
As he gets his life back piece by piece, Morgan recently had his chemo port removed, no longer needing the special protector he designed to fit in his shoulder pads. He is in the middle of summer workouts with a chance to be the starting quarterback once again.
Morgan has also launched a website called "Comeback Kids" to support others experiencing cancer at a young age. Learn more by clicking HERE.
Devian Parker-Rogers, Malcolm X Shabazz (N.J.) High School/Northstar Academy
Like Morgan, Parker-Rogers' life took a different turn due to circumstances beyond his control.
He grew up running around his neighborhood with no worries, eventually finding his love for football after he quit boxing and karate, opposite of his "martial arts fanatics and four black belt relatives." In his first year playing football, the East Ward Generals went undefeated and won the state championship, the first of three during his four years with the youth football organization.
But at the age of 13, his life changed when his mother, Kamelia, passed away.
"She was my best friend," Parker-Rogers said. "We did everything together. When she passed, it was really painful to me. It really took a toll on me. I was always in the top of my class. I was always the Honor Roll student, and she was always the one that was right there screaming the loudest in the audience, always the happiest, always encouraging me to continue growing and being stronger, still succeeding in my academics. Then when I started football, she was always at my games screaming on the sidelines and everything. She was always there to support me and push me to do better, so I felt like now I had to take on the responsibility of pushing myself to do better. I couldn't let all my hard work go to waste. I had to push forward because I knew she would want me to continue fighting and pushing on. I started to use it as motivation."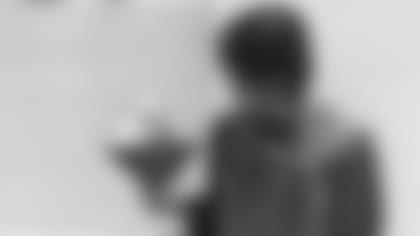 While he plays at Newark's Malcolm X Shabazz High School, Parker-Rogers took classes at North Star Academy, one of the top public charter schools in New Jersey. After his mother passed in the summer, Parker-Rogers walked into his principal's office heading into eighth grade and made a declaration to Miss Jody-Anne Jones.
"I told her I'm going for valedictorian this year," he said. "We had this whole conversation about it, and I was the first male valedictorian at my middle school at Northstar Academy. I had to use that motivation to really push me."
As his career took off in the classroom, it did the same on the football field. But, once again, it didn't come without adversity.
Following the summer of his freshman year of high school, Parker-Rogers was forced to undergo an orthognathic procedure, otherwise known as corrective jaw surgery, due to an underbite. His mouth was wired shut for three weeks, relegating him to a liquid diet that was not ideal for a blooming lineman. He lost close to 40 pounds as a result. With the help of his father's famous protein shakes, though, he was determined to bulk back up.
During that time, he also begged his grandmother for permission to attend practice, even if he couldn't fully participate yet.
"It was my way of staying active," he said. "I didn't like to just stay cooped up in the house, so I liked to get outside. Then also the brotherhood at Shabazz, being with my teammates and everything, they were really excited to have me back. When I showed up to practice, I knew their energy would boost me at that time. I felt like I needed to be around them to feel better. And also just being passionate about football, I didn't want to miss out on any new plays or new techniques that we were coming up with in the offseason."
That's why his coach nicknamed him Mr. Reliable.
"One thing I really love is his character and being the young man he aspires [to be] through all these changes here in North New Jersey," said Tyrone Turner, his former head coach. "The way he overturned his situation to earn a 4.3 GPA and scholarship, being an Ivy League prospect, here at Shabazz we honor him. We honor his scholarship and the way he thinks about things and the way he goes about things and the way he just follows the light. When we nominated him for this award, we thought this award fits who he is as a person and how he had to overcome all the obstacles to make it to this point in life."
And his next point will be Ithaca, N.Y.
Parker-Rogers announced that he will attend Cornell University, where he will chase another dream in addition to football. Parker-Rogers plans to major in biology with a concentration in animal science in the hopes of one day becoming a veterinarian.
"Growing up, I was really kind of shy with meeting new people," he said. "I really feel comfortable and open up around people I'm familiar with, but I was shy opening up to outsiders. I had a lot of pets growing up. I've had different fish, turtles, dogs. I really grew up with animals, and I loved them so much. I was that kid that always put that pet puppy on all his Christmas lists. I was always asking for a puppy every year. I was really fond of animals growing up, and being that I was shy, I really felt even more affection for animals because I felt like I could confide in them. They made me feel comfortable and at peace."
It goes to show you never know what is in the Heart of a Giant.
2022 Giants Training Camp Tickets Available Now
Free tickets available now for 2022 Giants Training Camp presented by Ford