The Giants.com crew is presented with four statements and must decide whether they are Fact or Fiction.
"Aggressive" is the best word to describe Brian Daboll's new coordinators.
John Schmeelk: Fact – I suggest fans go and listen to Bob Papa's interviews with defensive coordinator Don "Wink" Martindale and offensive coordinator Mike Kafka on the Giants Huddle Podcast. Martindale spoke openly about how he likes his defense to dictate terms to the offense when they generate pressure. Kafka's first answer about what a good offense needs to do well was "make explosive plays." Those are answers of aggressive coordinators. Now the Giants need the personnel to pull it off.
Dan Salomone: Fiction – The shoe certainly fits, but "fresh" describes the new regime. Team president John Mara said at the end of the season that it was time to hit the reset button, which the Giants did with bringing in outside perspectives at high levels of the organization. That trickled down to the new coordinators.
Lance Medow: Fact – New defensive coordinator Don "Wink" Martindale certainly fits that bill. During his tenure with the Ravens, Baltimore was consistently among the league leaders in blitz percentage. Case in point, last season, the Ravens blitzed 31% of the time, the sixth-highest rate in the NFL. In the three previous years, they led the league in that category at 44% (2020), 55% (2019) and 40% (2018). That trend is clearly synonymous with being aggressive. Mike Kafka has never been an offensive coordinator before, and it's still uncertain who will call plays this season. At this point, it's hard to get a read on Kafka's style and philosophy. With that being said, he spent the last five seasons with the Chiefs, who consistently ranked as one of the best offenses in the league. That alone puts him under the same umbrella as Martindale.
Matt Citak: Fact – Aggressive is definitely the word one would use to describe Don Martindale's style of defense. Martindale wants to get after opposing quarterbacks and is known for scheming new and creative ways to do this. But the defense is not the only side of the ball that will be looking to make those big plays. Offensive coordinator Mike Kafka said he wants to generate explosive plays downfield in his first interview with Giants.com. Between more blitzes on defense and more shots down the field on offense, the 2022 Giants will be described as aggressive.
Linebacker Azeez Ojulari is the player you're most excited to see in the new defense.
John Schmeelk: Fiction – I want to see what the defense asks of Xavier McKinney. I know what Azeez Ojulari can do, and I think he will be put in more advantageous situations to rush the quarterback. I am excited for that. But I'm more excited about how McKinney will be used. Will he be the single high safety? Will he be used in the slot more? Will he be used to rush the quarterback? He is such a strong and instinctual coverage player, and his skill set will give Martindale a lot of play with.
Dan Salomone: Fact – Ojulari set the franchise rookie record with eight sacks and became the fifth NFL rookie since 2000 to record at least one sack in each of his first three career games, joining Myles Garrett (2017), Tommy Kelly (2004), Barkevious Mingo (2013) and Terrell Suggs (2003). Wink Martindale is going to have fun drawing up blitzes for him.
Lance Medow: Fiction – I think it's easy to focus on the pass rushers, but if Don Martindale is an aggressive play caller, how he uses the secondary and the responsibilities of the defensive backs becomes even more important. That's why I think Xavier McKinney is a player to watch. He just finished his first full season in the NFL and has the versatility and skillset where he can be moved around and asked to assume a variety of roles, especially based on what he did at Alabama. I'm very interested to see how Martindale will tap into McKinney's tools.
Matt Citak: Fiction – Ojulari is one player that is likely to benefit greatly from Martindale's style of defense. Add in the fact that the Giants could use a high draft pick on another pass rusher, and Ojulari could be looking at a breakout sophomore campaign. However, the player I'm most excited to see in the new defense is Xavier McKinney. McKinney stood out on the defensive side of the ball this past season, finishing the year as the only DB in the league with at least 90 tackles, 10 pass breakups and five interceptions. McKinney looks like a star in the making. Martindale helped safeties Eric Weddle (2018) and Earl Thomas (2019) put together Pro Bowl seasons for the Ravens, and it looks like McKinney could be the next safety in line for a dominant season in Martindale's defense.
Offensive tackle is the deepest position in the draft heading into the combine.
John Schmeelk: Fiction – There could be as many as five offensive tackles taken in the first round of the draft, but there might only be an additional three or four taken in all of Day 2. I would not consider that a very deep class. I think tight end is a deep class where you can get a solid player into the front end of Day 3. I actually think the edge rusher position is pretty deep. There could be more than 10 players that play edge in the first three rounds of this draft and as many as 13. I think the Giants will be a in a good position to select an edge rusher at the top of the second round.
Dan Salomone: Fact – As NFL.com's Bucky Brooks wrote, "this year's OT class is loaded with rock-solid prospects who should be able to step onto the field as starters from Day 1." His colleague, Daniel Jeremiah, has two tackles in his top three and seven in his top 50.
Lance Medow: Fiction – Every year you can usually make a case for this position based on the results, so why should this one be any different. It's wide receiver. You can easily make a case for 15 to 20 players being selected in the top 100 picks. Ohio State will showcase Chris Olave and Garett Wilson while Alabama is represented by Jameson Williams and John Metchie III. Those are the powerhouses, but you also can't overlook USC's Drake London, Treylon Burks of Arkansas, Penn State's Jahan Dotson, George Pickens of Georgia and Purdue's David Bell to name a few.
Matt Citak: Fiction – Offensive tackle certainly seems to be one of the deeper positions in this year's draft heading into the combine; however, it would be tough to characterize it as the deepest. That title belongs to the edge defenders. Of course, two of the first few picks are most likely to be edge rushers, with Aidan Hutchinson and Kayvon Thibodeaux both projected to be top five picks. However, the list of talented pass rushers in this year's class goes well beyond the top two names. Guys like George Karlaftis, David Obajo, Jermaine Johnson II and Travon Walker are also being projected as guys who could step right in and immediately boost a team's pass rush in 2022. The Athletic's Dane Brugler is one of the top draft analysts in the business, and in his latest ranking of the top 100 draft prospects, EDGE led the way with an impressive 17 players. For comparison, OT came in with the fourth-most prospects at 10 (tied with LB).
In honor of the Giants hiring Don "Wink" Martindale, the best nickname in team history is "Spider" Lockhart.
John Schmeelk: Fact – "Earth, Wind and Fire" was fine, but I can't go with a group nickname for the 2008 running back trio. Parcells being the "Big Tuna" is pretty good, but really how can I pick a tuna over a spider? Who's afraid of a tuna? Spiders though? Yeah, Spider Lockhart is pretty awesome. I will give an honorary runner-up to "The Hammer" Keith Hamilton.
Dan Salomone: Fact – He was all over receivers and leapt for interceptions like a spider. He was given the nickname by his mentor and Hall of Famer Emlen Tunnell, who also had a pretty great nickname himself as "Offense on Defense." The Giants also wore a patch with a spider and his nickname and number during their first Super Bowl run after he passed away.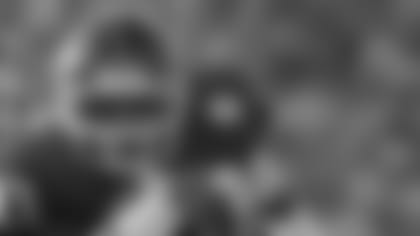 Lance Medow: Fiction – It really depends on how you're looking at the term nickname. If we're simply going with nicknames that replace actual names, then I'd put Spider atop the list. But since there's no restrictions and we can consider ones that don't fall under that umbrella, I'd go with Stephen Baker "The Touchdown Maker." It rhymes, it rolls off the tongue and was extremely fitting. Another one worthy of mentioning that I'd put a close second is Henry Hynsoki "The Hynocerous." The touchdown celebration dance alone places him in contention.
Matt Citak: Fiction – If we're talking an individual player's nickname, then "Spider" Lockhart likely takes the crown. But I decided to count group nicknames for this one, and with that being said, I had to give the honor of best nickname in team history to the trio of running backs that made up Earth, Wind and Fire. Brandon Jacobs (Earth), Derrick Ward (Wind) and Ahmad Bradshaw (Fire) only got to play two seasons together before Ward departed in free agency. But during the 2008 season, the group of running backs looked unstoppable. Both Jacobs and Ward topped the 1,000-yard rushing mark while Bradshaw added an additional 350+ yards on the ground. Jacobs would run over defenders, Ward would run right by them while Bradshaw would break their ankles with some slick moves. Only five times in NFL history did a pair of running back teammates both rush for 1,000+ yards in the same season. It's fitting that the players who helped the Giants achieve the best overall rushing season in franchise history were given the nickname of one of the most successful bands in history.