The Giants.com staff debates the 2018 schedule and looks ahead to the start of offseason workouts:
Davis Webb has the most to gain during the Giants' offseason workout program, which begins Monday.
JOHN SCHMEELK: Fiction - While he might be the person who can prove the most, I don't think he has the most to gain. No matter how well Webb plays, he isn't going to supplant Eli Manning as the Giants' starting quarterback. So instead, I'm looking for a player who can earn either a starting job or more playing time. I'm going to go with one of the young offensive linemen, Chad Wheeler. An undrafted free agent from last season, he'll have a chance to compete for one of the starting offensive line spots, most likely at right tackle. The slate is clean for everyone on this roster, so the new coaching staff and front office will be looking for the best players to start on the offensive line. He'll have a chance to prove he is one of those guys. You can put one of the young cornerbacks in this group as well.
DAN SALOMONE: Fact -I'll take the bait and say fact here. Spring is the backup quarterback's fall. This is where he gets his most reps and showcases what he can do in front of a new coaching staff and general manager. Yes, by the time the Giants get to the portion of the program that resembles a live practice, we will know whether or not the Giants took a quarterback second overall. Regardless, Webb needs as many opportunities as he can get to audition for a starting quarterback job in the NFL. That's a pretty big carrot at the end of the stick.
LANCE MEDOW: Fiction - Everyone has something to gain during the offseason workout program because there's a completely new coaching staff. Anything these players accomplished under the old regime doesn't hold much water because the new coaches are going to develop their own opinions of the players on the roster and form new relationships. Given Eli Manning is the starting quarterback, I don't think Davis Webb has the most to gain other than, like any other player, making a strong first impression on the coaching staff. As of right now, Webb is the only other signal caller on the roster, so it's not as if he's competing against anyone in particular.
Does he really have anything more to gain than someone like Eli Apple or other young players either returning from injury (B.J. Goodson) or looking to solidify roster spots (Aldrick Rosas, Donte Deayon)? Also, a portion of the offseason workout program is strictly classroom work, so it's not as if these players will be making strong statements with their play on the field on a daily basis. Last month, when Pat Shurmur was asked about whether they'll give Davis Webb more looks during an upcoming minicamp before the draft, his response was: "No, we don't have a full 90-man roster, so he's going to get a lot of reps and he probably would anyways. I don't want to make this sound like it's a showcase for Davis Webb, but as a guy that we're interested in seeing, he's certainly going to get his fair share of the reps." He jokingly added it's not Davis Webb's pro day. I understand many are curious to see what he has to offer, but do we really have to elevate basic offseason workouts for that reason and make them out to be more than they are?
Chicago is the most improved team on the Giants' schedule this season.
JOHN SCHMEELK: Fiction -I'm going to go with the Indianapolis Colts for one simple reason: the likely return of Andrew Luck. The Colts still have issues elsewhere on the roster, but Andrew Luck moves the needle. They have also acquired two additional second-round picks for moving down from third to sixth overall in the draft and they could move down again to acquire even more picks. The other team I considered here was San Francisco, but I moved past them because we saw how much improved they looked in the final games of last season with Jimmy Garoppolo as their quarterback.
DAN SALOMONE: Fact -Things are trending in the right direction for the winningest NFL franchise. Potential is the scariest word in sports, but the Bears potentially have the two most important pieces and the most important relationship in place – quarterback (Mitchell Trubisky) and head coach (Matt Nagy). The front office set up Trubisky for a strong sophomore campaign by giving him some big weapons.
LANCE MEDOW: Fiction - I think the Bears added some nice pieces around their second-year quarterback Mitchell Trubisky in wide receivers Allen Robinson and Taylor Gabriel, along with tight end Trey Burton, but I don't know if that makes Chicago the most improved team on the Giants' schedule this season. Those three players are certainly upgrades over what Trubisky was working with as a rookie, but Robinson is coming off a torn ACL and Gabriel was a complementary receiver to Julio Jones and Mohamed Sanu with the Falcons. Instead of the Bears, I'd go with the Niners. Although San Francisco didn't add Jimmy Garoppolo during the offseason, he didn't play against the Giants in 2017, so that's an upgrade right there at the most important position. The Niners also added versatile running back Jerick McKinnon from the Vikings, former Giants center Weston Richburg and veteran corner Richard Sherman from the Seahawks. Last season, after Garoppolo took over as the starting quarterback, San Francisco won its last five games. I think they'll be even more dangerous this season.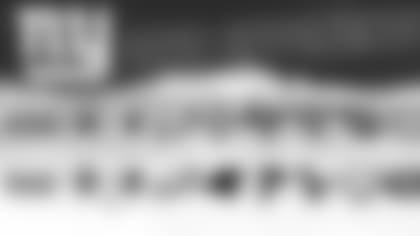 Offensive prospects are tougher to project than defensive players coming out of college.
JOHN SCHMEELK: Fiction - I don't think I can say either side of the ball is most difficult to project, to be honest with you. I think it has far more to do with the specific position or player. Depending on whom you are evaluating, it might be tough to come to a conclusion because of what they are being asked to do in college or even the competition they are facing. It can get very tricky, but it is not reliant on whether it is a position on offense or defense.
DAN SALOMONE: Fact - Defense is more about instincts and athleticism than offense, so there is more of a plug-and-go element on that side of the ball (I hope Antonio Pierce isn't reading this). Offenses are more cerebral, especially at all five offensive line positions and, of course, the quarterback. That's why players on offense are harder to project because of the intangibles. Football is so much about fit for a player coming out of college, and that's even more evident on offense.
LANCE MEDOW: Fact - This doesn't mean it's easier to project defensive players, but two of the most difficult positions to evaluate and determine whether skillsets will translate to the NFL are quarterbacks and offensive linemen, so this is an easy fact. A number of college programs don't run pro style offenses, so that make it much more difficult to project whether a quarterback or offensive lineman can adapt to different schemes and execute at the same level in the NFL. Defenses in college are more similar to the pros.
April is the best sports month of the year.
JOHN SCHMEELK: Fiction -Give me October. You have the NFL and college football in full swing, the baseball playoffs and World Series and the start of the NHL and NBA seasons. It is the only time of year all four major sports are in action at the same time. You don't see the four major professional sports all going on at the same time in any other month. October wins!
DAN SALOMONE: Fact -My answer is always what month is closer, so in this case it's April. The intensity of the Stanley Cup Playoffs is unmatched. The Masters is the most traditional sporting event we have (now that the Rose Bowl is relegated to being a semifinal game or consolation prize, but I digress). The cherry on top is the NFL Draft, which has always been one of my favorite events of the sports year. It combines the two best things in the world – the NFL and college football.
LANCE MEDOW: Fiction -April is certainly a busy month in sports with the start of the baseball season, the NBA and NHL playoffs, along with the Masters. With that being said, baseball is a marathon season, the NBA and NHL playoffs extend into May and June when the later rounds usually provide more excitement, and the Masters is one of four golf majors that lasts just four days. So that's why I should crown April. I'll pass and take January instead. You have the NFL playoffs, the college football playoff/championship game, start of conference play in college basketball, and some regular season NBA and NHL to consume.