David Wilson will have a season-high number of rushing attempts and yards on Sunday.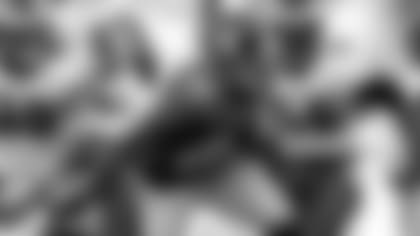 Read More Fact or Fiction](http://www.giants.com/news-and-blogs/fact-or-fiction.html) MICHAEL EISEN: Fact - it's time for Wilson to have a big game. The Giants are depending on him and he has the talent. There will be no turnaround without a significant contribution from Wilson.
JOHN SCHMEELK: Fact - The Eagles have given up more long drives than anyone this season, and their defense is vulnerable to the run, especially on first down. I like the Giants chances of having their best rushing game of the season on Sunday.
DAN SALOMONE: Fact -That bar is set at 13 carries and 55 yards from last week's game in Kansas City. His career-high is only 15 attempts, but given the situation, the Giants will rely on him heavily against Philly. After Da'Rel Scott was waived this week, there are just three running backs on the roster, one of which is rookie Michael Cox, who is used on special teams. The Eagles are also giving up 121.8 rushing yards per game (27th in NFL).
At this point in his career, Michael Vick is more dangerous with his arm than his legs.

MICHAEL EISEN: Fiction - Vick is averaging 8.8 yards a carry and has as many rushing touchdowns (two) as LeSean McCoy, the NFL's leading rusher. Vick is still a threat with his legs.
JOHN SCHMEELK: Fiction - Though my answer would have been different a month ago. Vick is still generally an inaccurate passer that holds the ball too long, but it is clear early this season that he is still a very dangerous runner. He averages 8.8 yards per carry! His big arm, however, should not be underestimated. He can make all the throws and chuck it deep after buying time with his legs.
DAN SALOMONE: Fact -When he's on, the balance is what makes him dangerous. You used to dare him to throw, but now with his improvement in the passing game and the weapons around him, the arm is what can doom defenses. Yes, he would provide some of the best highlights the NFL has ever seen with his scrambles, but there was a limit to what he could provide in terms of wins and losses.
Victor Cruz will have his fourth 100-yard game of the season against the Eagles.

MICHAEL EISEN: Fiction - Nothing against Cruz, who is always capable of posting big numbers, but I have a hunch Hakeem Nicks will have a big game on Sunday.
JOHN SCHMEELK: Fiction - This is more a gut feeling than anything else, but I believe the Eagles will focus much of their attention on Victor Cruz and force the other Giants offensive skill position players to beat them. Wouldn't you? So far Victor Cruz has been the only consistent player on the offense.
DAN SALOMONE: Fact -He has done so in three of four career meetings with Philadelphia. Not only does he have a good history against the NFC East rival, but the Eagles are also giving up 325 yards per game through the air. That's not even mentioning the 1,700-yard, 16-touchdown pace he's on this season, which is remarkable given the offense's struggles.
Damontre Moore will have more snaps on defense than he has all season.

MICHAEL EISEN: Fact - The Giants' pass rush need a boost. Moore is the player who can best provide it.
JOHN SCHMEELK: Fiction - I think he is ready to play, but I think the coaching staff will be wary to put him out there against the Eagles, a team you have to be extremely disciplined against with their use of the read option, play action pass, and Vick's running ability. Moore's time is coming fast, but not yet this week.
DAN SALOMONE: Fact -Tom Coughlin all but said he would. There are some injuries along the line right now, and Moore could provide that energy that the pass rush has been missing. He has proven himself on special teams, and now he's hungry for a bigger role.
[
Click Here to read more Fact or Fiction >>](Damontre Moore will have more snaps on defense than he has all season.
)