Monday's practice was about switching from "vacation mode" as the Giants returned to the Quest Diagnostics Training Center after the bye week. On Wednesday, they flipped to game mode.
The 3-6 Giants, winners of two of their past three games, begin the second half of the season on Monday Night Football in Tampa Bay against the 6-3 Buccaneers. The current NFC South leaders and defending Super Bowl champions have lost back-to-back games after a 6-1 start.
As both sides have an extra day to prepare for the primetime meeting – their second in as many seasons – coach Joe Judge addressed the media before Wednesday's practice. There was plenty of news and insight coming out of the morning. Here is what you need to know:
🔹 Judge started Wednesday's presser with his usual scouting report of the upcoming opponent. He said what sticks out about Bruce Arians and his staff is the aggressiveness. "No risk it, no biscuit," Judge said, echoing the opposing head coach's famous phrase. That comes in the form of pushing the ball downfield on offense, blitzing on defense, and trying to make plays in the kicking game. "Bruce is going to do things to go out there and win the game," Judge said. "He never goes ahead plays on his heels not to lose it."
🔹 Judge noted that all three of Arians' coordinators played for him in the past. Todd Bowles (defense) and Keith Armstrong (special teams) played under Arians at Temple, which made him one of the youngest head coaches in Division I history when he was hired in 1983 at the age of 30. Offensive coordinator Byron Leftwich finished his long career as an NFL quarterback with the Steelers in Pittsburgh, where Arians was offensive coordinator at the time. "They've been trained in how they think, and they're all on the same accord in terms of how they approach the game, which is very unique from a lot of different teams."
🔹 Judge said Bowles, the former Jets head coach, is a "great game plan coach and when I say that I mean, this guy knows how to break you down as a team and knows how he wants to attack you going into the game. You have to understand that you get in the game, it's not always going to be what you saw on tape directly from another game. You have to see how he sees you and how he's going to attack you."
🔹 Judge said obviously the Buccaneers are one of the best teams in football. They have players who are not just the best in the league right now, but also all-time at their positions.
🔹 Left tackle Andrew Thomas was designated to return to practice. Thomas, a starter since he was the fourth overall choice in the 2020 NFL Draft, hurt his ankle in Week 6 against the Rams after missing the previous game with a foot injury. The two injuries are on different legs.
🔹 Judge said before the bye week that they were hopeful to get back Thomas and running back Saquon Barkley for the Buccaneers game, and that notion has not changed. Judge said they were "very encouraged" by Barkley's progress coming out of Monday's practice. Judge couldn't give a "yes" or "no" at this point for his game status, but they will see how the rest of the week goes.
🔹 Judge was asked what it means for Devontae Booker, who is coming off his two biggest games in yards from scrimmage (125 at Kansas City and 122 vs. Las Vegas), when Barkley returns. "The focus for us will be more in terms of just splitting the time in terms of sharing it and making sure we're fresh. I don't really go into a game ever looking that we have to get this guy this many reps, this guy this many reps, this guy this many touches. It's let's keep our guys fresh."
🔹 Kicker Graham Gano and linebacker Lorenzo Carter are being kept away from the building as the result of a stomach bug.
🔹 Judge, a longtime assistant in New England, was asked about Tom Brady's evolution. Judge said it's more about him evolving week to week based on the best game plan for the upcoming opponent. The thing that really sets Brady apart, Judge said, is his commitment to being patient within the game plan. Judge said a lot of quarterbacks and coordinators get impatient. Brady stays committed to moving the sticks and then seizes the opportunity for a big play when it appears. "Look, I'll be honest with you, I don't see much of a difference in this guy in terms of how he's playing from when I first saw him with my own eyes back in 2012. He's moving as well now as ever. He throws as accurate a ball as there's ever been in this league."
🔹 Judge said the practice model this week will reflect what they did leading up to their Monday night game in Kansas City earlier this month. They will practice Wednesday and Thursday and simulate two Friday practices.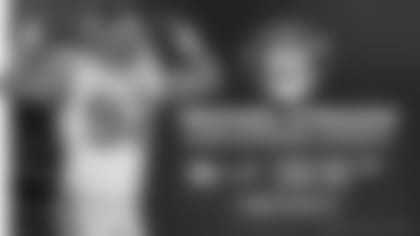 Tickets for Michael Strahan Ceremony
Limited tickets are available for Michael Strahan's jersey retirement game on November 28th