How John Madden saved Jeff Hostetler from missing flight to Super Bowl XXV
Additional photography by Mike Malarkey
After a postgame interview caused Jeff Hostetler to miss the team's airport shuttle in San Francisco, Hall of Famer John Madden came to the rescue with his famous bus and gave the quarterback a lift.
One of the most memorable and entertaining events during the Giants' 1990 championship season was not a game or a play, but a flight. And one of the players most responsible for getting it airborne almost didn't make the plane.
That season, just one week separated the conference title games and Super Bowl XXV. A couple of hours after defeating the two-time defending champion 49ers, 15-13, in an epic NFC Championship Game, the Giants bussed to San Francisco International Airport to fly to Tampa and their showdown with the Buffalo Bills.
The flight is part of Giants lore. It was a wild, raucous and uninhibited celebration over five hours at 35,000 feet.
"It was the best plane ride I've ever been on, by far," said Bill Parcells, the head coach of that team. "It was unbelievable. They had the best time, they were so fired up. It was good, they had a great time."
And one of the team's most important players nearly missed the ride.
Quarterback Jeff Hostetler, who completed 15 of 27 passes for 176 yards and was the holder for each of Matt Bahr's five field goals in the victory, was almost left behind, because he couldn't refuse an interview request from John Madden, the Hall of Fame coach and broadcaster who had been the analyst for CBS' coverage of the game.
"I remember everyone in the locker room was celebrating and I was able to call and get a hold of my wife (Vicki)," Hostetler said. "There was so much excitement. Afterwards, I got showered and was heading up to get on the bus and somebody came to me and said, 'No, you have to go down and do an interview with John Madden.' I looked at them and said, 'It is kind of late. I don't want to miss the bus.' They looked at me and said, 'The bus will wait for you.'"
Hostetler knew as soon as Parcells emerged from the locker room and took his seat at the front of the lead bus, the convoy would leave for the airport. Hostetler warned Madden that he was going to bolt when he saw the head coach. "They said, 'No, no, no,'" Hostetler said.
Parcells had just concluded his own on-camera chat with Madden when he walked past Hostetler.
"I said, 'I am telling you guys, you better not let the bus go without me,'" Hostetler said. "I do the interview and I come out and all four or five busses were gone - all gone. This is during the Gulf War, when we had all the security and everything. They didn't go through the terminal, so the busses were going right on the tarmac. There was no way for me to get to the plane. I'm thinking, 'What am I going to do?' Here I am and everybody is going to Tampa and I do an interview, and I hated to do interviews, and I'm going to get left behind. I probably would have gotten fined and everything."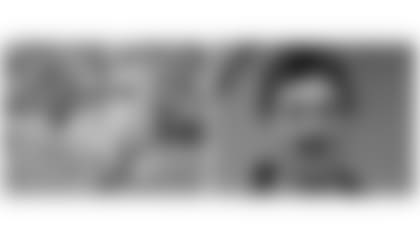 It didn't come to that, because Madden, one of the most powerful figures in football, also had some pull regarding airport security – the ultimate irony, given that Madden doesn't fly and traveled on his private, lavishly-equipped bus, the Madden Cruiser. But Madden, a Super Bowl-winning coach with the Oakland Raiders, was one of the Bay Area's most famous citizens.
"All of sudden, Madden comes out and says, 'What's the matter?'" Hostetler said. "I said, 'They left.' He looked at me and said, 'Don't worry about it. I'll get you there.'
"I get on his bus and he makes a couple phone calls and we get to the airport. We go to a back entrance and there was just a gate there. I didn't know how we were going to get in, but all of a sudden someone comes out and opens up the gate. We drive out and pull right up to the steps leading up to the plane. I couldn't believe it. I got out, walked up the steps and Parcells was sitting in the very first seat. I remember him looking at me and then I got what was probably the biggest compliment I ever had from him. He looked at me, shook his head and gave me a smile. 'Well done, well done,' he said.
"He wasn't talking about the game. It was about me getting to the plane."