Additional photography by Mike Malarkey
Days before the Giants opened the 1990 campaign, perennial All-Pro linebacker ended his 45-day holdout. In the first game, he recorded three sacks in a 27-20 victory over the Philadelphia Eagles.
With a 12-yard takedown of Philadelphia's Randall Cunningham early in the second quarter of the season opener, Lawrence Taylor registered the Giants' first sack of 1990.
That was hardly a shocking development. In a 13-year Hall of Fame career with the Giants, Taylor had 141.5 sacks, including 9.5 in his rookie season in 1981, the year before they became an official statistic.
But the timing might be considered a bit of a surprise. Because he was engaged in a contract dispute with the Giants, Taylor never showed up for training camp and did not play a single preseason snap.
L.T. was one of several Giants holdouts that summer. In addition to Taylor, who was entering the 10th season of his Hall of Fame career, defensive ends Leonard Marshall and Eric Dorsey, nose tackle Erik Howard, linebacker Gary Reasons, cornerback Mark Collins (that was six defensive starters); and fullback Maurice Carthon missed the start of camp. The absences and early-camp injuries to some defensive linemen prompted Bill Parcells to cancel a three-day trip to Rhode Island, where the Giants were scheduled to hold five joint practices with the New England Patriots. "We're just not that ready," general manager George Young said. "You don't want to be a punching bag for somebody."
As the summer progressed, the absent players began returning. Dorsey signed his contract and reported on Aug. 7. He was followed by Carthon (Aug. 10), Reasons (Aug. 11), Howard and Collins (Aug. 22), and Marshall (Aug. 31).
The last holdout was Taylor, the most dominant and feared defensive player of his era. His contract standoff with the Giants had become the biggest story of the summer. Each day brought more speculation about whether the team's best player would report for the opening game, a Sunday night showdown against NFC East rival Philadelphia. On Wednesday, Sept. 5, about 100 hours before the opener, Taylor ended his 45-day holdout by signing a three-year contract that made him the NFL's highest-paid defender, at $1.55 million that season.
"We all thought that he would be there when it counted when the season started," quarterback Phil Simms said.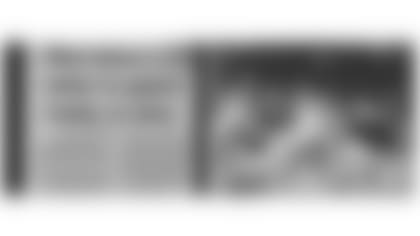 Taylor arrived with his usual flair. Parcells' daily news conference was less than three minutes old when his star player burst into the crowded room. "Are you here to make a statement?" Parcells asked.
"I don't know, Bill," Taylor said. "I'm home."
Four days later, Taylor proved it while causing everyone to question the value of long training camps. After just three practices, he dominated the 27-20 defeat of the Eagles with seven solo tackles, including three sacks of Cunningham, and a forced fumble, a performance that earned L.T. the seventh of his nine NFC Defensive Player of the Week awards.
"Not bad for an old man," said Taylor, who was then all of 31.
Fellow linebacker Pepper Johnson said, "Having L.T. in there gives us more confidence. It's like killing a gnat with a sledgehammer."
Did Parcells think throughout the summer-long absence that Taylor would be on the field to face the Eagles?
"You never know," Parcells said. "But opening night is kind of the time when the players start getting paid or not getting paid, and that's usually a big point. I didn't know exactly what he was going to do. I remember him coming into the press room, which was the first time I saw him. He came parading through there and gave me a little needle. And we went on from there."
Without a training camp or preseason, Taylor led the team with 10.5 sacks – six more than runner-up Marshall – and third on the team with 84 tackles (64 solo). In the NFC Championship Game, he recovered the fumble that set up Matt Bahr's game-winning field goal.
"He was pretty remarkable athlete, and I'm certain that he was doing you know in terms of preparation," Parcells said. "He had to be."
With the remarkable Taylor, you could never be too sure.