Additional photography by Mike Malarkey
A week before traveling to Tampa, wide receivers coach Tom Coughlin accepted the head coaching job at Boston College. Minutes after they won the Super Bowl, he phoned recruits from the victorious locker room.
Tom Coughlin has always been known for the intensity and laser-like focus he brings to any job, but that single-mindedness was challenged during the Giants' 1990 championship season.
Today, Coughlin is the two-time Super Bowl-winning head coach of the Giants. That year he was in his third year as the team's wide receivers coach. The season ended with the Giants defeating the Buffalo Bills in Super Bowl XXV, 20-19.
But the ride was bumpy at times for Coughlin.
On Wednesday, Oct.17, his father, John Louis Coughlin, passed away.
"I'll never forget those days," Coughlin said. "Old Whitey (Wagner, then the team's locker room manager) came looking for me. He said, 'We got a call at the front office for you for you and it isn't good.'"
Coughlin traveled to his hometown of Waterloo in upstate New York for the funeral three days later. "I drove back Saturday afternoon with the whole family and I didn't end up at the (team) hotel," Coughlin said.
The following day, backup quarterback Jeff Hostetler and recently-signed kicker Matt Bahr led the Giants back from a 9-point fourth-quarter deficit and a last-second 20-19 triumph over the Phoenix Cardinals.
"I just looked at (head coach Bill) Parcells and said, 'That was my father right there,'" Coughlin said.
On Nov. 27, Jack Bicknell was fired as the coach at Boston College following a 4-7 season. The school immediately targeted Coughlin to replace him. Coughlin was the Eagles' quarterbacks coach from 1981-83 (when he coached 1984 Heisman Trophy winner Doug Flutie). But he rejected the initial overtures, because he didn't want to disrupt the Giants.
"I said, 'There's no way I'm going to be a distraction to this team - forget it,'" Coughlin said. "Chet Gladchuk was the athletic director and I had met him (at) Newark Airport. I sat with him for 45 minutes and went back and he offered the job to me and I said no. About three weeks later I hadn't thought about it anymore, except that the closer it got to Christmas I was saying to myself. 'What are you doing? You said by the time you were 45 you wanted to be a head coach and you're 45. You have a chance to be a head coach. What are you going to do?'"
After at least two other candidates turned down the job, Boston College came back to Coughlin. This time he accepted and was hired on Dec. 27, three days before the Giants' regular-season finale and exactly one month prior to Super Bowl XXV.
"I fly up to take the job and it's the worst snowstorm you've ever seen in your life," Coughlin said. "How they flew that plane I have no idea. We're landing at Logan (Airport) and you can't see a thing, I'm two hours late for the press conference, but they were all there waiting."
Coughlin admits he was surprised by Parcells' reaction.
"Bill was opposite of what I expected him to be," Coughlin said. "I excepted him to read me the riot act about, 'Don't you do anything which makes these players think that you're not (focused).' He didn't say a word about that and then he encouraged me to take the job."
That began a whirlwind month for Coughlin in which he was coaching the wide receivers, watching tape, helping devise game plans and attending practices and games while at the same time hiring a staff and recruiting for Boston College. Oh, and the Coughlin family (including Tom's wife Judy and four children, ranging in age from 21 to 9) had to prepare for its move to Massachusetts.
Coughlin managed his time expertly and ably fulfilled all his roles. Two of his receivers, Stephen Baker and Mark Ingram, made critical plays in the Giants' thrilling Super Bowl victory.
Then the fun really began.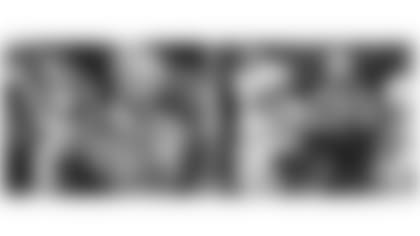 "The game ends," Coughlin said. "They miss the (potential game-winning) field goal and we (the coaches) are going bananas in the press box. We run out and, as I saw it, there was an elevator for the Buffalo coaches and an elevator for us. One of the Buffalo coaches gets stuck in the elevator with us. I think it was (defensive backs coach) Dick Roach. We were jumping around and high-fiving each other and this poor guy was slumped in the back, trying to hide.
"When we reached the locker room Mike Pope, who was then our tight ends coach, went to a back door and let in his two sons, my two sons and one of Mike Sweatman's boys. Mike was our special teams coach. So we got to celebrate in the locker room with our sons, which made the day that much more special for all of us."
Not many coaches could find a reason to work in a locker room immediately after a Super Bowl victory. True to his nature, Coughlin did.
"There were three recruits I felt I had to have," Coughlin said. "I went into the trainer's room and called each one. And to make even more of an impression, I put them on the phone with Mark Bavaro and Lawrence Taylor. Bavaro is a proud Notre Dame alumnus and before he took the phone he said to me, "Coach, is Notre Dame in on any of these guys?" Well, of course not, Mark. Actually, Pete Kendall was one of them. And Notre Dame was in on Pete Kendall. But all three soon committed to Boston College. I like to think those phone calls from the postgame locker room at the Super Bowl helped them clinch their decisions."
Coughlin returned to the metropolitan area on the Giants' charter flight. When the plane landed, he jumped in a waiting car and continued his recruiting efforts. He doesn't remember when he arrived in Boston or when he received his Super Bowl ring. But he does recall this: "The whole thing was a terrific experience."