Additional photography by Mike Malarkey
One of the great individual efforts of Super Bowl XXV, wide receiver Mark Ingram highlighted the Giants' spirit on a third-and-13 conversion from Buffalo's 32 by breaking a half-dozen tackles for a 14-yard gain.
The two greatest non-scoring plays in Super Bowl history were made by Giants wide receivers, 17 years apart.
The more recent piece of brilliance was turned in by David Tyree in Super Bowl XLII. As even casual fans know, Tyree made a spectacular and borderline miraculous catch of an Eli Manning pass against his helmet for a 32-yard gain in the Giants' game-winning drive against the New England Patriots.
Mark Ingram's unforgettable play in Super Bowl XXV took place early in the third quarter. It gained only 14 yards. And its defining feature was not what seemed to be divine intervention, but incredible effort. Yet it was no less important and no less spectacular than Tyree's catch for the ages.
The Giants trailed the Buffalo Bills, 12-10, when they took the second half kickoff in XXV. With Jeff Hostetler at quarterback and game MVP Ottis Anderson forcefully running the ball, they advanced from their own 25-yard line to the Bills' 32, where they faced a third-and-13.
That's when Ingram went to work. Running left to right, Ingram caught Hostetler's pass at the 26, well short of the first down. But he would not be stopped. Ingram evaded a tackle attempt by cornerback Kirby Jackson and ducked under Darryl Talley. He then faked left and stepped right, a move that brought Kelso to one knee. James Williams grabbed his leg at the 21, but Ingram worked his way free and was finally brought down at the 18, after an incredible 14-yard journey.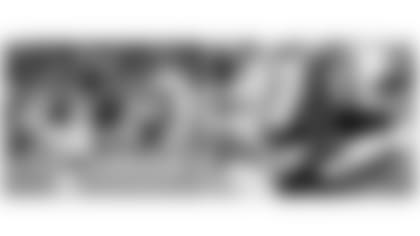 "We called a shallow route with Ingram the underneath receiver at five to six yards and then someone over the top," said Tom Coughlin, who was then the Giants' wide receivers coach. "We had had some success with that route earlier. Now it's third-and-12, and we've got to keep the ball and make a first down, because we're out too far to kick a field goal. So we called this play again. I can still remember (offensive coordinator) Ron Erhardt pointing his finger at what we're going to call.
"Jeff drops back and dumps the ball to Ingram coming over the middle. He broke at least five tackles in getting that first down and he did a tremendous job of being able to run through all of that opposition. He looked almost like a running back running through the different defenders when those people had good shots at him."
Hostetler still marvels that Ingram was able to juke his way through so many defenders and pick up the first down.
"It was third and long, and we needed to get points," Hostetler said. "Our big thing was that we were just on the fringe of field goal range. We called this crossing route with Mark and we know that they are going to drop deep, to try to take away anything deep so we don't get a first down. It was one of those plays where when you are young and dumb, you just sit back there, hold it and I have to get the first down and throw it past the first down marker. You are not very successful doing that at times. Lots of times you have to take what they give you underneath and see if your guys can make plays. That is exactly what happened. I was able to hit Mark underneath and he never quit. He broke a couple ankles from the Buffalo guys. Just a great effort. There were guys on our team making great efforts trying to make additional blocks downfield, doing everything they could. It was huge."
Twenty five years later, Ingram's tremendous play might be topped only by Tyree's famous helmet catch.
"I remember saying to Mark Ingram after the game, in my humble opinion, that was the greatest non-scoring play in Super Bowl history up to that point," Coughlin said. "And I really believe that."