Additional photography by Mike Malarkey
In the NFC Championship Game, Matt Bahr made a record five field goals, including a 42-yarder as time expired to lift the Giants over the two-time defending Super Bowl champion 49ers at Candlestick Park.
Matt Bahr was an NFL kicker from 1979-95. He scored 1,422 regular-season points, still the 25th-highest total in league history. But every time Bahr practiced, he was no different than millions of youngsters who play football in their backyards or on dusty playgrounds.
"Every kick I ever did was to win the Super Bowl," Bahr said. "Not so you could run around with your arms up; I never really did that. It was more you wanted to finish that kick and know that you had given it your best effort. I never wanted to jog off the field thinking I could have done more, or wishing I had done more in preparation."
That attitude served Bahr well in the final two weeks of the 1990 postseason, when he kicked two of the biggest field goals in Giants history. His 42-yarder as time expired gave the Giants a 15-13 victory in the NFC Championship Game in San Francisco and denied the 49ers an opportunity to win an unprecedented three consecutive Super Bowls. It was Bahr's fifth field goal of the game. That feat – kicking a game-winning field goal to send the Giants to a Super Bowl – was duplicated in 2007 and 2011 by Lawrence Tynes, whose overtime 3-pointers won title games in Green Bay and San Francisco (the latter through the same Candlestick Park end zone as Bahr's kick 21 years earlier).
A week later, Bahr really did win a Super Bowl when his 21-yard field goal midway through the fourth quarter accounted for the game-winning points in the Giants' 20-19 victory over Buffalo in Super Bowl XXV. The real dramatics in that game occurred when Bills kicker Scott Norwood was wide right on a 47-yard attempt with four seconds left.
"He's a clutch kicker," Giants coach Bill Parcells said of Bahr – speaking of him as a player in the present tense though Bahr last played 20 years ago. "There's nobody else I'd rather have out there. I've been lucky to have some good kickers; we got (Adam) Vinatieri (when Parcells coach in New England) after that, but Matt was clutch. I just think he was a clutch kicker, he was mentally tough."
Bahr is justifiably proud of what he accomplished in January 1991 and his vital role in one of the greatest seasons in Giants history. But Bahr looks beyond the field goals when he thinks about that magical month.
"The thing that I am most proud of as a player for the Giants is making the two tackles in the Super Bowl," he said. "I think I led both special teams in tackles (actually, he was tied with teammate Lee Rouson and Buffalo's Steve Tasker)."
It's the San Francisco game that forever engraved Bahr into Giants lore. He scored all of the Giants' points on five field goals.
With four seconds remaining, the Giants called a timeout with the ball at the 49ers' 24-yard line. Bahr was about to line up for the field goal when the 49ers called time in an attempt to ice him. But the stoppage had the opposite effect.
"That was the best possible thing that the other team could do," Bahr said. "We had missed a kick earlier in the game and it was because I didn't get set up properly. I didn't prepare the area. So when they called the timeout, I took a deep breath and said, 'Oh, thank goodness' and I was able to make sure the spot was good. They had just re-sodded the middle of the field. And I could say, 'Just think of two things, keep your head down, follow through.'"
Jeff Hostetler, his holder, was trying to steady his own anxiety.
"Yeah, I was nervous," Hostetler said. "All I kept telling myself was, 'Just catch the ball, catch the ball, catch the ball.' I couldn't have even told you there was a timeout. All I kept on saying was that, 'The only thing that anybody ever remembers about somebody holding a football for a kick is when they screw up.' I was just concentrating on catching the ball, putting it down, and he was going to do it. I knew if I put it down right, he was going to make it."
He did, but not without some tense moments. First, San Francisco's Spencer Tillman was in great position to block the kick, but somehow missed it.
"San Francisco put on a rush we had never seen before, and it was a really good one," Bahr said. "The end guy (Tillman), instead of taking a big loop, ran straight across the line of scrimmage and dove through the gap that was there. If you look at the film, he's perfectly over the center of the field with his arms outstretched. If I had hit that down the middle, I think there's a chance he could have blocked it."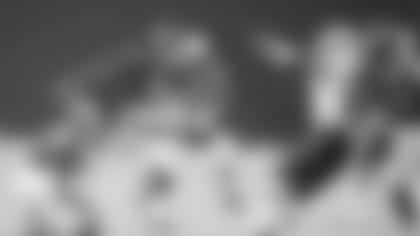 But Bahr kicked the ball a bit left, a direction it maintained early in flight.
"I hit it good and said to myself, 'Uh oh, I think I hit that too good,' because it started hooking left," Bahr said. "And then it straightened out and it was inside the left upright by a yard or two."
Bahr entered the NFL in 1979, when he was the kicker for a Pittsburgh Steelers team that won its fourth Super Bowl in six seasons. Two years later, he joined the 49ers for four games before moving on to Cleveland, where he stayed until his release before the 1990 season. After Giants kicker Raul Allegre re-injured his groin, Parcells signed Bahr on Sept. 29, 1990, a day before the season's fourth game.
"When Cleveland fired me, I had had a pretty good run there and I didn't feel I had anything else to prove," Bahr said. "The Giants called and a part of me said, 'Why do you need to do this?' But the spice of life is taking those risks, putting yourself out there, taking a chance."
So Bahr joined the Giants and the following day kicked a field goal and four extra points in a victory over Dallas. And he quickly impressed Parcells with his work ethic.
"Every time he practiced a kick, it was exactly game conditions for him," Parcells said. "He was never fooling around kicking - helmet off, chin strap undone - none of that, zero. It was always trying to make this kick in the game."
That's exactly what Bahr did that season when the Giants needed him most.