Additional photography by Mike Malarkey
Taking athlete superstition to the next level, running back Ottis Anderson wore practice pants during his MVP performance in Super Bowl XXV, something he had been doing throughout the magical playoff run.
Under Bill Parcells, the Giants practiced as hard as they played in games. But that didn't mean his players dressed like it on Sunday.
Except running back Ottis Anderson.
The MVP of Super Bowl XXV famously donned his dirty practice pants in the big game, something that began as an accident and turned into a full-fledged superstition by the end of the destined postseason run.
In the many twists and turns of his career, which included Rookie of the Year, Comeback Player of the Year, 10,000-yard rusher and two world championships, Anderson found himself as much mentor as primary running back toward the end of 1990, the year the Giants began by drafting running back Rodney Hampton in the first round.
So when the divisional playoff game against the Chicago Bears came around on Jan. 13, 1991, Anderson didn't worry too much upon realizing he mistakenly ran out for pregame warmups with the incorrect pants. But then there was really no time to change when Hampton broke his leg in the second quarter while trying to recover a fumble by Jeff Hostetler after being sacked.
"I just said, you know what, I'm probably not going to play anyway because Hampton had proven himself for that whole season," Anderson recalled. "So I was standing on the sideline and he got hurt and the practice pants went on."
Anderson went on to lead all rushers with 80 yards on 21 carries in a 31-3 victory over Chicago. The Giants amassed 194 yards on the ground compared to the Bears' 27. "I went out there and had a good game against Chicago -- we won," Anderson continued. "And the league called down to Bill and told him about my pants and Bill came to me and said, 'These your practice pants or game pants?'" Anderson replied, "They're the practice pants." Parcells said, "Wear them next week."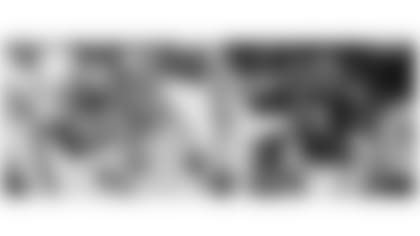 While Hampton would not play again that season, Anderson, wearing the practice pants, piled up 249 yards on 62 rushing attempts in three postseason games, including 102 yards and a third-quarter touchdown in Super Bowl XXV that gave the Giants a 17-12 lead. It was the first time they led since Matt Bahr scored the game's first points on a 28-yard field goal midway through the first quarter at Tampa Stadium.
Delivering another signature moment with his uppercut forearm to Bills safety Mark Kelso, Anderson was on his way to being named MVP in one of the most memorable Super Bowls of all time.
On top of that, he did so in his home state.
"I felt that it was everything I had predicted when I first came out of the University of Miami," said Anderson, a native of West Palm Beach. "Twelve years later, I was in the Super Bowl, I was in the state of Florida. All the stars lined up the way they should have lined up for me."