Additional photography by Mike Malarkey
Captured on national television, coach Bill Parcells and quarterback Phil Simms had a heated exchange over an incomplete pass during a Week 9 game in Indianapolis. But winning solved all.
The Giants were the NFL champions in 1990, but they were far from the league's most exciting team. They had 143 more rushing attempts than passes (541-398) and their devotion to the ground game became more pronounced when they owned a second-half lead. Most of the victories in their 10-0 start had all the drama of a last-play kneel-down. Just three of their 16 regular-season games were decided by three points or less, including the last two. The Giants would jump out ahead early and spend the rest of the game bleeding the clock and bludgeoning their opponent.
One of those triumphs occurred in Indianapolis on Monday night, Nov. 5. The Giants toyed with a Colts team that entered the game with a 2-5 record and won, 24-7. They led 17-0 at halftime and threw only seven passes in the last two quarters.
The most memorable action occurred not when the ball was snapped, but when the head coach and the quarterback did.
Bill Parcells and Phil Simms had a complicated professional relationship, one that included a great mutual respect and a fierce desire to win. It could also be contentious, because Parcells constantly pressured Simms.
"Every practice was the end of the world," Simms said. "Today has got to be a great day. If it's not the greatest day, oh my gosh."
Parcells turned the screws even tighter before games against teams like the Colts.
"Bill wouldn't try to get you up for the Redskins or the 49ers - that was just automatic," Simms said. "But when we played teams that weren't as good, he would stress more than ever about those games. He knew human nature, that you're going to be flat against teams when you watch the film and read the papers that they're just not that good."
All the ingredients that comprised that complicated partnership exploded on the sideline in the building then called the Hoosier Dome. Parcells screamed at Simms, who usually ignored such outbursts. But this time he stepped forward and delivered a loud rebuttal. The heated argument continued for a few more seconds before fizzling out. But by then a national television audience was talking about it, and it quickly became the most newsworthy incident in an otherwise dull game.
"People always talk about our relationship, but we had very few arguments," Simms said. "But we did have one big one, and it was on TV. I never wanted to show off to coach. I tell people all the time, never did I once look at Bill and not know who he was. I knew he was the man in charge. He had all the power and the biggest thing of all, you respected him; that's his position and you never cross that line."
A seemingly routine incomplete pass led to the unexpected sideline fireworks.
The Giants, leading by 17 points, faced a third-and-two from the Colts' 49-yard line with 1:56 left in the half. David Meggett – the third-down back who had a team-high 39 receptions that season – was sent into the game and lined up to Simms' left side. Rodney Hampton was to the right. After the ball was snapped, Simms looked at tight end Mark Bavaro running down the middle of the field. But he threw to the right flat for Hampton. The ball was tipped ever so slightly by defensive end Jon Hand, but it changed its flight path enough that the rookie back couldn't handle the pass.
The Giants punt team took the field, Simms and the offense trotted to the sideline, and all of a sudden, the coach and quarterback were in an emotional, high-volume argument with millions of fans watching.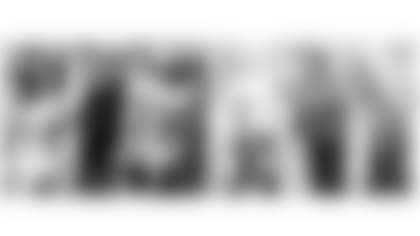 "In the defense the Colts were in, our best play was for Simms to dump the ball to Dave Meggett," Parcells said. "But he threw to Rodney Hampton instead and the ball got tipped and fell incomplete. Now I'm mad because he didn't go where I wanted him to, but he knew if the ball wasn't tipped, he would have had a first down. So now he's defending his call.
"It's difficult. I'm not playing quarterback, I'm not seeing what Phil sees. By the same token, the intent of these two halfbacks in the game was to utilize them, and then the ball went somewhere else, incomplete. So we had to have a little board of directors meeting when he came over. That's when I said to him, 'What do you think we're putting these guys in there for?' He was mad, because I think he knew deep down he had done something that he shouldn't have done. And he said, 'Well, you go out there and play quarterback.' So I told him, 'Sit your (butt) down over there.' Then O. J. Anderson and Maurice Carthon told me that I'm the one who's always saying how we've got to stick together. I told them, 'I'm going back to sticking together as soon as I stop yelling.'"
Simms's version of the dispute differs in the details.
"As I was walking off the field, coach said to me, 'Come on, Phil, you gotta hit that.'" Simms said. "I said, 'I know he was there, but they tipped it.' And he goes, 'Simms, there are no excuses.' I said, 'What are you talking about?' From there, we both exchanged some heated words."
To Parcells, the dispute was over quickly. Minutes after the argument, Parcells and Simms were laughing with each other. Parcells invoked the catch phrase of a popular light beer commercial from that era to minimize the episode.
"The great thing about Phil and my relationship with him and his with me is the sensitivity level didn't last very long," Parcells said. "We won the game pretty handily, and now he's going off the field and he said, 'What do you want to say to the press?' And I said, 'You tell them it's less filling, and I'll tell them it tastes great' and that was that, that was the end of that."
Well, for Simms it lingered a bit longer.
"We weren't hugging and kissing the following week at practice," Simms said. "It took a week before it died down."
Simms was already highly-respected by his teammates, but the tiff with Parcells elevated his stature even further.
"I just remember looking down and I saw them cursing and going at it, and then it didn't end," wide receiver Stephen Baker said. "Simms just kept walking by and kept spitting stuff out at him."
"My teammates reacted entirely differently to it," Simms said. "They loved it, and it was amazing how many players came up and said, 'Oh, you're The Man.' So many of them on the plane home came up and said, 'How'd it feel? Was it great? I'd like to yell at him like that, too.' I was like, 'Wow,' so their take on it was entirely different. I was stressed a little bit."
At least the sideline skirmish enlivened an otherwise lackluster night.
Later that week, Simms was asked about his verbal tiff with Parcells.
"So many people came up to me," Simms said, "and told me that was the most exciting part of the game."